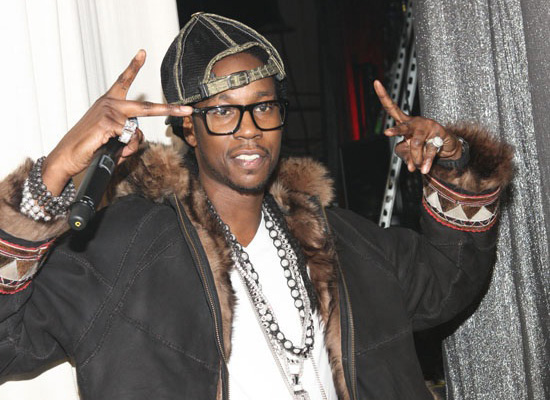 2 Chainz was arrested at New York City's LaGuardia Airport early Tuesday (May 22) after officials found what they thought was a pair of "brass knuckles" in his carry-on luggage.
The Atlanta rapper (real name: Tauheed Epps), who also goes by the name "Tity Boi," was taken into custody for misdemeanor possession of a weapon in the 4th degree, and spent at least 8 hours behind bars at the Queens County Central booking where he was formally charged.
Chainz, however, says that airport security was mistaken, and what they thought was a pair of brass knuckles was actually a harmless four-finger ring.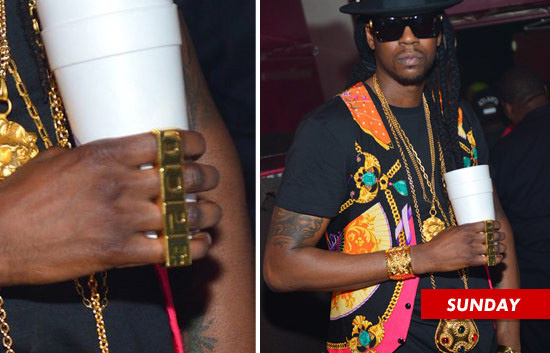 The ring says "DOPE" in big letters — and sources tell TMZ, 2 Chainz rocked it no problem at an Atlanta club called the Velvet Room on Sunday.

According to sources close to the rapper, Chainz then flew to NYC without incident — with the ring in his luggage — but when he tried to leave the city today, TSA at LaGuardia Airport mistook the jewelry for a dangerous weapon.
In a phone interview with MTV News, the "Riot" rapper called the arrest incident an assassination of his "character" and his "swag."
"They tried to assassinate my character, they tried to assassinate my swag … It was just a negative dilemma earlier where someone misconstrued a piece of jewelry for a weapon and stuff."
He then went on to explain the significance of his confiscated piece of jewelry:
"I do exclusive pieces. My pieces are actual conversation pieces, like literally. When you see my gold, it's something to conversate about … People weren't doing four-finger rings and all that. I like to set myself apart … I definitely wasn't trying to beat nobody up on the plane or nothing."
2 Chainz says he was on his way to perform at a concert in North Carolina, and he eventually pleaded to a lesser, unspecified charge, but never got his jewelry back.
"Yeah, they took it from me, they took the Louis [Vuitton] case that I actually keep the jewelry in, they took that. I couldn't believe it," he said. "Me just trying to explain it was getting too frustrating, me just trying to explain my occupation and then when they finally got to the jail and everybody knew who I was, then they started calling their kids and putting me on the phone with their kids. It was like a weird experience."
Despite the obviously frustrating situation, 2 Chainz chooses to remain positive, as he is set to release his solo debut "Based on a T.R.U. Story" on August 14th, he's on tour with Drake, and he's currently involved with "Respect My Vote," an initiative that encourages young people to get involved in the voting process.
Of his arrest, 2 Chainz said, "I don't find that intriguing. You're supposed to make your mistakes during adolescence and use these times right here to kinda fix some of the things you did in the past, so with me I'm doing Respect My Vote, I'm doing all kind of things to try to have some positive news."
Be the first to receive breaking news alerts and more stories like this by subscribing to our mailing list.