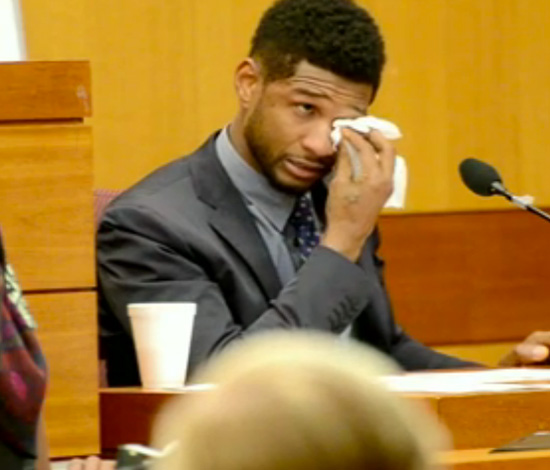 Usher appeared in court in Atlanta Monday (May 21) — following his performance at the 2012 Billboard Awards in Las Vegas the night before — to continue the bitter custody battle with his ex wife Tameka Raymond over their children.
While testifying on the stand, Usher broke down into tears after Tameka's attorney whipped out photos of the 33-year-old singer at a nightclub in Europe earlier this year, suggesting that the entertainer cares more about partying than he does about his two young sons.
Usher also talked about about how his ex goes through nanny after nanny, and he constantly worries about who is taking care of his kids at any given moment.
Under oath, Usher also explained how Tameka has a violent history, and during his testimony, he described an incident when his 40-something-year-old ex wife went ballistic and "wanted to fight" whn he showed up at her house with his new girlfriend Grace Miguel (who is also his manager).
Ush testified Tameka walked to his car and said, "I'm gonna kick your ass. Bitch get out of the car. How dare you bring this woman into my subdivision in my house?"

He added, "She continued to spit. At this point she pulled the door open, tried to swing at her."

Usher claims he had to get out of the car and block Tameka … who then hit him. Usher said he pleaded with Tameka to calm down, but claims "she threw a plate of food at the car" … as he fled the situation.

[TMZ]
As you may remember, during Tameka's sworn testimony earlier this month, she admitted to telling Usher and his girlfriend "I will f**k you up" … so this incident in which she physically attacked the couple isn't surprising at all.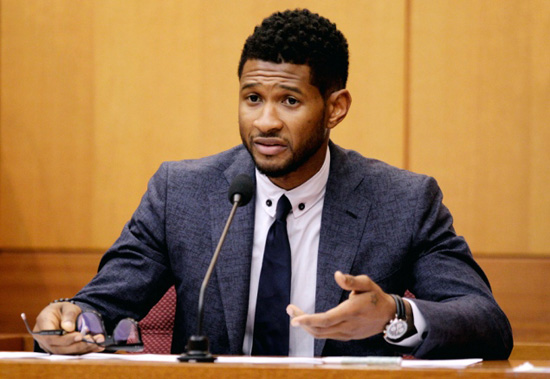 Usher was also grilled about his alleged drug use because Tameka claims that he abuses them.
While he did admit to smoking weed, his lawyer jumped in and objected when he was questioned about using ecstasy, and he insisted that he has NEVER used ANY drugs in front of their children, which is an allegation Tameka made early on in their custody battle.
Usher and Tameka — who married in 2007 and divorced before their 2-year anniversary in 2009 — are fighting over custody of their two kids Usher V (aka "Cinco") and Navid … and so far, things (obviously) aren't going so well.
What do you think about how Usher and Tameka are handling their child custody dispute?
Be the first to receive breaking news alerts and more stories like this by subscribing to our mailing list.