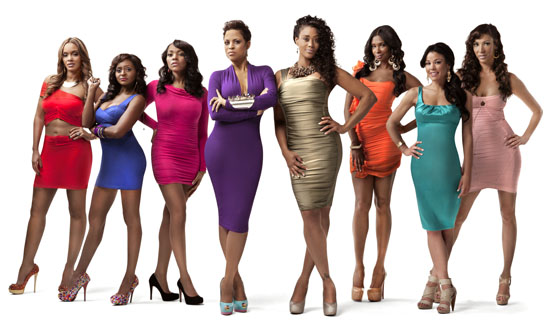 It's no secret that VH1's "Basketball Wives" is one of the most hated reality shows on television, mainly because of the non-stop drama and fighting that seems to plague EVERY single season of the show, from the first season, through the fourth season that is currently airing on TV.
But the producers — including Shaunie O'Neal — say that's about to change, now that the controversial reality show has been picked up for a fifth season, despite calls to boycott the program and advertisers pulling out from the show.
In a statement, Shed Media, the company who produces the show along with the VH1 network, addressed criticism that that the show promotes bullying, and insists that going forward, cast mates will be encouraged to resolved their issues in a non-violent manner, instead of the way things have been handled before.
"Shed Media US is fully committed to telling the compelling stories of the Basketball Wives in a balanced way. Our producing partner Shaunie O'Neal feels strongly about this, and we fully agree with this stance. We support her as she encourages the cast members to work out issues in a non-violent fashion. We look forward to working with her and the rest of the cast on conveying more balance in the next season."
VH1 echoed Shed Media's statement, saying that they condemn violence, despite claims that they actually promote it.
"Our viewers' opinions always matter a great deal to us at VH1. Lately, there has been a lot of conversation about Basketball Wives, a series featuring strong, intelligent women with very passionate viewpoints, which can sometimes escalate. We at VH1 agree with and support Shaunie and the show producerss 'no excessive physical confrontations' policy on the series moving forward.

"We are all committed to balancing the candid, bold excitement that the viewers have come to love in the series with storylines and representations they can be proud of. Shaunie has been a strong advocate for a more balanced approach to the show and we, along with our producing partners at Shed Media, are all in agreement about moving forward with that goal."
Viewers of "Basketball Wives," which follows the drama-filled lives of a small group of women who have romantically been involved with professional basketball players, are often confronted with scenes that feature punching, slapping, swearing, hair pulling, glass (and wine bottle) throwing among cast members.
The show has received numerous amounts of criticism since it first premiered over two years ago on April 11th 2010, but public outrage grew when cast member Jennifer Williams decided to file a lawsuit against her co-star Evelyn Lozada's personal assistant Nia Crooks after an incident on the show in which Nia slapped Jennifer in the face.
Williams claims she was physically and verbally assaulted by the Harlem resident in a legal complaint, and many viewers of the show — including celebrities — used social media (Twitter, Facebook, etc.) to promote a public boycott of the show and pass around a petition after the show's producers reportedly threatened to sue Williams for filing the lawsuit against Crooks.
One petition, titled "Boycott Basketball Wives and Evelyn Lozada," called for the boycott of the show and a boycott of a possible spinoff show featuring cast member Evelyn Lozada and her NFL player fiance Chad Ochocinco.
The petition, which racked up nearly 30,000 signatures on change.org, read:
Evelyn Lozada is a bully. The violence on "Basketball Wives" is horrible and disgraceful. Physical assaults, threats, verbal abuse, and harassment. VH1 is rewarding this behavior by giving Evelyn a spinoff. Don't reward negative behavior.

This is not a hate petition against Eveyln Lozada. We simply will not support violence. It hurts to see violence amongst women on television for entertainment purposes. It is not ok for women to hit each other on TV.
On average, Basketball Wives gets about 3 – 4 million viewers weekly, so it will definitely be interesting to see how those numbers do with the new "no violence" policy in place next season.
Do you think "Basketball Wives" can survive without drama and violence?
Be the first to receive breaking news alerts and more stories like this by subscribing to our mailing list.