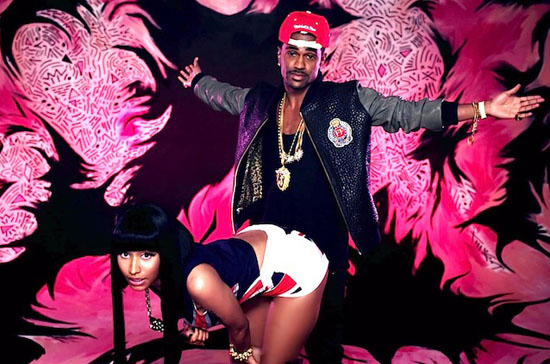 Nicki Minaj and Big Sean made music together when they collaborated on the remix to Big Sean's "Dance (A$$)" song … but did they "collaborate" together on a sex tape too?
Probably not … but some "source" told All Hip-Hop they did.
Our source tells us exclusively that Nicki Minaj allegedly has a sex tape that is set to leak any day now, and you will never guess who her co-star is! No, it is not her rumored fiancé, Safaree, or her Young Money boss, Lil' Wayne.

Our source tells us that the man who is in the alleged sex tape with Nicki Minaj is none other than G.O.O.D. Music rapper, Big Sean!

The two allegedly slept together right around the time they shot the music video for Big Sean's "Dance (A$$)" remix, and the whole thing was caught on tape.

Our source tells us that Big Sean has possession of the video, and whether Nicki is aware that the alleged romp in the sack was filmed is unknown.
To corroborate the information provided by their so-called "source," All Hip-Hop also mentioned an interview Big Sean did with "The Breakfast Club," where he talked about a scene in the "Dance (A$$)" music video where Nicki grinds on him.
Yeah, she felt my Big Sean!" he teased the hosts.
The rapper — who is signed to Kanye West's G.O.O.D. Music label — also talked about Nicki Minaj's A$$ in another interview with popular New York radio station Hot 97:
"Nicki's ass was right on me, I was handling like a gee. There wasn't any plans either we didn't know what we were going to do. We just knew we wanted to be in the shot together. I handled it. It was cool. I had a good time."
No word from either Big Sean or Nicki Minaj on the authenticity of the alleged sex tape … but there's 99.99% chance that it doesn't exist. And we don't even need Gossip Cop to tell us that.
Watch the closest thing you'll ever get to a Big Sean and a Nicki Minaj sex tape below:
Be the first to receive breaking news alerts and more stories like this by subscribing to our mailing list.