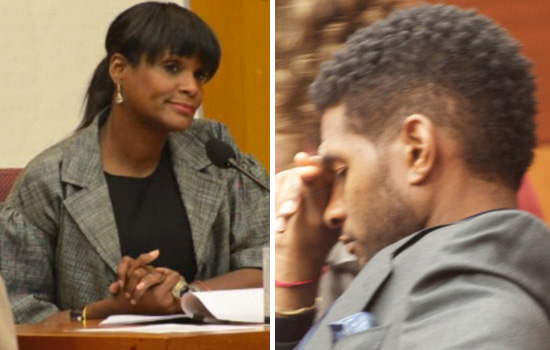 And the custody battle between Usher and his ex wife Tameka Foster Raymond continues…
As we previously reported, the two were recently ordered into mediation by the judge presiding over the case to come up with a solid custody agreement for their two sons … or else he was going to impose a temporary order.
READ: Usher and Ex-Wife Tameka Ordered by Judge to Settle on Child Custody Agreement
Well, at least a week has gone by, and it looks like the pair still haven't worked something out amongst themselves, which means that the case will continue to drag on.
When Tameka — who was accused of making death threats towards Usher — took the stand in court last week, she denied that she ever threatened her ex, though she did admit, under oath, to telling him, "I will f**k you up!" (No shame in her game, huh.)
According to TMZ:
Tameka took the stand and, as you can see in this video, was questioned by Usher's attorney about her verbal and abusive threat towards the singer — where she allegedly said "I will kill you both," referring to Usher and his current girlfriend.

Foster went back and forth with her answer before coughing up a half-admission, saying she didn't threaten to "kill" him … but admitting, "I did probably, out of anger, say 'I will f**k you up' and it's not acceptable."

Foster claims the menacing statement was a result of Usher gallivanting in and out of town with his new GF, which was "embarrassing" for her in such a tight knit community.
The trial is set to continue this week. Grab your popcorn and stay tuned, folks. This could get interesting!
Be the first to receive breaking news alerts and more stories like this by subscribing to our mailing list.