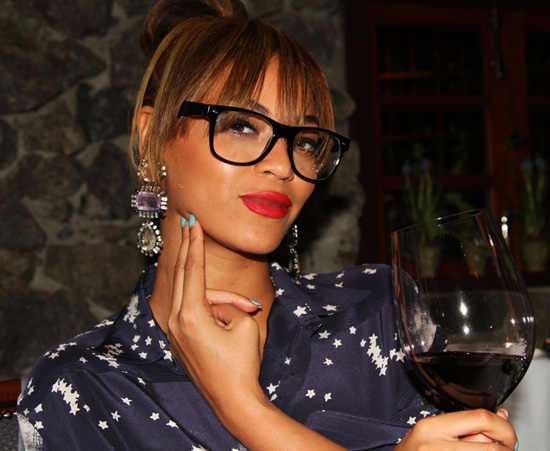 Beyonce Knowles already has 16 Grammy Awards, 11 MTV Awards, 7 Billboard Music Awards, 7 Soul Train awards and 7 BET Awards, from a total of close to 250 music awards overall … So what else is there left for her to win?
Well, besides being named People Magazine's "Most Beautiful Woman in the World" this year … Beyonce can now add "award-winning journalist" to her long list of ever growing credits, as she is reportedly being honored with a journalism award from the New York Association of Black Journalists.
The award — which will be officially presented to Beyonce on May 15th — is for an article she wrote in the July 2011 issue of Essence Magazine titled "Eat, Pray Love," which was a first-hand account of the nine-month break she took from the music industry in 2010, before returning to record and release her album "4."
"I had talked about taking a vacation before, but always ended up in the studio after two weeks, so no one believed me. This time, though, I was serious. I was going to give myself a year to do the things I never get to do," the R&B diva wrote.
"Simple things like play with my nephew, pick him up from school, visit museums, go to concerts, see some Broadway shows, learn to cook a meal and spend time with my husband… Yes, I needed some relaxation, but I wanted inspiration too, from regular everyday things. They did not have to be over-the-top productions. I was looking for tiny moments that would speak to my heart and make me smile…"
"I'm grateful for the time I gave myself to breathe," Beyonce also wrote, calling the personal retreat a "creative reawakening."
Essence entertainment director Cori Murray praised Beyonce's writing skills, and called her a "real writer."
"We had to edit her," Murray told the New York Daily News, "but everyone gets edited except Toni Morrison."
But not everyone thinks Beyonce is so worthy of such an honor.
Following the announcement that the singer would be given an award for her writing, several journalists voiced their disapproval, including author, professor and journalist Dr. Boyce Watkins, who shared the following thoughts on the matter:
I am not one to presume that the New York Association of Black Journalists were off-base by giving a writing award to Beyonce Knowles.

While I am sure there are other professional writers who thought they might be considered for the award, we can't assume that the woman who has sold millions of albums, toured the world non-stop for the last decade, been featured in multiple films and made thousands of appearances doesn't have the ability to be an award-winning journalist in her spare time.

Here are some questions I'd like to ask the NYABJ about their decision to position Beyonce for the next Pulitzer Prize:

1) Did you see Beyonce's open letter to Michelle Obama? Do you really think that the same person wrote both of these articles? The first sentence of Beyonce's letter says, "Michelle is the ULTIMATE example of a truly strong African American women." Is she writing TO Michelle or writing ABOUT Michelle? What in the hell is a "truly strong African American women?" I'm not trying to be a hater, but I just had to ask.

2) Would Beyonce have gotten this award had she been a regular citizen and not a celebrity? Only you know the answer to that question. What about a regular citizen who didn't even go to college? Sorry, I'll stop, since the college reference might make me sound like a snob. But I can't help but think that taking more writing classes might make you into a better writer, the same way that I'm sure that rehearsing every single day for years made Beyonce into a better performer. I doubt that a journalist could do what Beyonce does by shaking their booty just once a month.

3) You're really convinced that a person who wrote one article, for one magazine, one time is better than every black professional writer in the country who does this every single day for a living? Perhaps those bums need to step their games up.

4) What's in it for you? Many organizations give false awards to celebrities just to get them to show up for their events. The appearance of the celebrity grants publicity and instant credibility to the event. In this case, the strategy appears to have backfired.

5) What's the procedure and who voted to give Beyonce this award? Did the entire organizational body vote for Beyonce or were all voting privileges given to a select group of people in a private meeting? Yes, that does make a difference.

[Source]
Do you think Beyonce deserves a "journalism" award? Why or why not?
Be the first to receive breaking news alerts and more stories like this by subscribing to our mailing list.