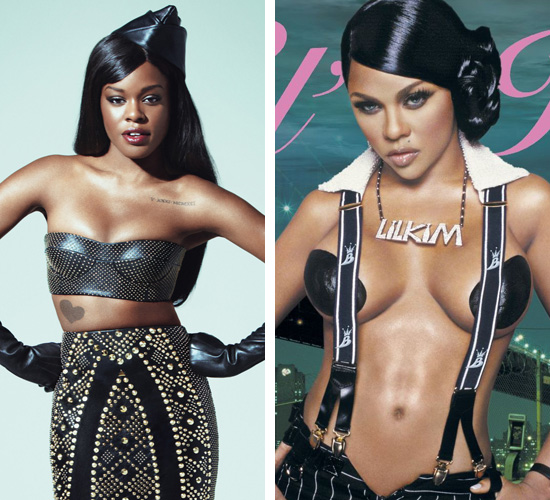 As if being embroiled in a beef with Iggy Azalea and T.I. wasn't enough … Hip-Hop newbie Azealia Banks has sparked yet another rap beef with someone else.
This time around, she's shooting off at the mouth (via her infamous Twitter page, of course) about Lil Kim, who she says snubbed her after she sent her a song she wanted her to rap on.
Without mentioning any names, Banks tweeted on Saturday:
It really sucks when someone you respect and admire is trying to act brand new when all u did was reach out and try to work… I can't lie… My little feelings are hurt. Women are so petty… But whatever…Your loss… Not mine.
The very next day, Azealia went in a little deeper and actually mentioned who she was referring to in her previous tweets, and also explained why she was so upset.
According to her tweets, Azealia reached out to Lil Kim and sent her a "reference verse" because she wanted the two of them to do a song together.
But Lil Kim, clearly offended at the fact that Azealia would basically write her verse for her, respectfully declined the offer in a message sent by her assistant.
So in response, Azealia — being the loose cannon that she is — chose to go in on Lil Kim on Twitter, and attacked her credibility, claiming that she "doesn't write her own raps."
Okay so true tea is that Lil Kim got mad that I wrote a verse for her on a record I wanted her on.

Everyone knows Lil Kim doesn't write her own raps and I saw this as a faster more efficient way of getting the track done.

She then had her assistant write me some long ass offensive email about how Lil Kim writes her own raps and doesn't need anyone's help.

So….. My question was and is still… IS SHE DOING THE TRACK?

Who cares about what you use to do…. WILL YOU DO THE TRACK??!

All this extra sh-t is stupid. Keep closing your own doors ma. @lilkim

There is no beef. At all.
Shortly after Azealia Banks' Twitter rant, Lil Kim's publicist released a statement accusing the rap newcomer of manufacturing a phony beef for publicity:
Earlier today a press release went out making a claim that there was friction between Hip Hop Icon "Lil Kim" and aspiring hip artist azealia banks. The release comes as a surprise to our team, being that my client and azealia have NEVER spoke to one another or met AT ALL.

Kim was actually very flattered azealia's public admiration for her, which is why it's so hard to understand how someone who claims to be a true Lil Kim fan could flip the script so easily on someone who was supposedly their idol.

It is also VERY interesting that NO ONE from her team made any attempts to reach out to anyone from our team to voice any concerns or problems that they may have had. I have NEVER heard of anyone having a conflict with someone they have NEVER met with or personally spoke with.

We have no idea what they are referencing and have no desire to discuss the matter any further as there is nothing to talk about. It honestly seems that someone from azealia's team would rather have her fans buy into manufactured drama instead of buying music.

Kim knows nothing of any beef, and furthermore has had nothing but nice things to say about her. We don't know what this is and will not address this any further. It seems that this is another sad attempt by someone trying to use my client for publicity. We wish her nothing but the best.
Predictably, that statement led to yet ANOTHER Twitter rant from Azealia Banks:
@LilKim you DO know that YOUR management where the ones who said u needed us to write a reference verse in the first place .. Right?

BUT I BETTER NOT HEAR NONE OF MY LYRICS ON YA RECORDS MA! I WILL SUE DAT AZZZZZ!

Oh well … I'm still gonna steal all of her outfits & hairstyles … 'cept I'm gonna keep all the credit and not involve her in any of it.

@LilKim real talk I just want that verse …. ya know..? I'm not really here for ur team and they're pseudo professionalism

@LilKim u can still use the verse of you want.. Or feel free to write your own. But you should really do the verse

Lol all bullshit aside I'm here for this $$$$$$$$$$$. Let's get it … Why not?

@LilKim YOU KNOW YOU WANT TOOOOO

@LilKim COMAAAAAAAAAAAAAHN!
Needless to say … at this point, Lil Kim will probably NEVER do a song with Azealia Banks … but who knows? Maybe they'll kiss and make up one day.
Only time will tell…
[Spotted at Necole Bitchie]
Be the first to receive breaking news alerts and more stories like this by subscribing to our mailing list.