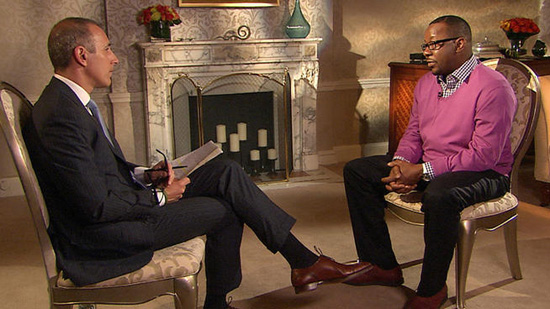 Bobby Brown has finally broken his silence on Whitney Houston's death and his current relationship with his 19-year-old daughter Bobbi Kristina.
In an interview with the "Today" show that aired this week — his first since Whitney Houston died on February 11th 2012 — Bobby Brown talked about where he was when he found out his ex wife had died.
The 43-year-old singer told host Matt Lauer that he first learned of Houston's death from a New Edition bandmate shortly before they were to take the stage for a concert.
Brown says he immediately called his daughter, who was too distraught to speak at the time, and someone else confirmed that Houston had indeed passed.
"I just started crying … You never expect someone close to you to just die. It was really hard," he told Lauer.
Whitney Houston had a long history of drug abuse, but Bobby says he saw her shortly before her death, and she had a "glow" about her, which led him to believe that she was doing well, and was clean and sober.
But toxicology reports released in the months that followed Whitney Houston's death say she had cocaine in her system at he time of her passing.
Brown says he was shocked to learn that his ex wife was still struggling with cocaine, as he himself has been clean for over seven years.
He was also quick to deny accusations that he is the one to blame for her death, and that her relationship with him was her downfall.
"It makes me feel terrible, but I know differently. I think if anyone ever knew us and spent time around us instead of time looking through the bubble, they would know how we felt about each other," Brown said, adding that his 2005 reality show "Being Bobby Brown" helped him and Whitney to both see how their drug abuse negatively impacted their relationship.
Brushing off allegations that he he was the reason Houston started using drugs, Brown said, "I didn't get high [on narcotics] before I met Whitney. I smoked weed, I drank the beer, but no, I wasn't the one that got Whitney on drugs at all … I'm not the reason she's gone."
Despite everything, Brown told Lauer that his relationship with Whitney "was great … I had 14 beautiful years with that woman. I can honestly say that — I love that woman — with everything I am. And I believe she loved me the same way."
Bobby Brown also talked about rumors that he and Whitney's only child together — their daughter Bobbi Kristina — is a drug abuser.
"She's fine," the R&B singer told Matt Lauer in the second half of their interview. "She knows that her mom is gone, and she knows that she has to live."
"I know what she is actually doing. I think people are making assumptions of what my daughter is and how strong she is," he said. "I am her father. She talks to me about everything."
"Everything," he said, includes her love life, and her rumored romance with Nick Gordon, a close family friend she once called her adopted brother.
"I would expect her to have a boyfriend," Brown told Lauer. But he shot down rumors that Bobbi Kristina and Gordon were romantically involved with each other, saying they are "definitely not" together in that way.
Though Bobbi Kristina denied to be a part of the interview, the R&B singer's other children — three from previous relationships — joined him for part of the interview and defended their father's reputation.
"Everyone has their ups and downs," his daughter LaPrincia said. "You can't always be judged for that."
"The bad boy image is just a part of the performance," Landon Brown — his oldest son — said.
Bobby Brown also discussed the controversy surrounding his attendance at Whitney's funeral, where he says he and his children were told by security that they wouldn't be able to sit together.
Bobby says he felt "disrespected," and he didn't want to sit separately from his family, so he simply left early, kissing the casket of his ex-wife on the way out.
"I decided that, you know, it'd be best if I just left. I kissed the casket, and me and my children left the building," he said.
Watch the interview below:
Be the first to receive breaking news alerts and more stories like this by subscribing to our mailing list.