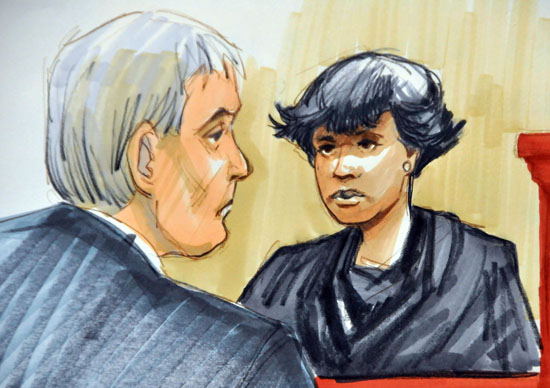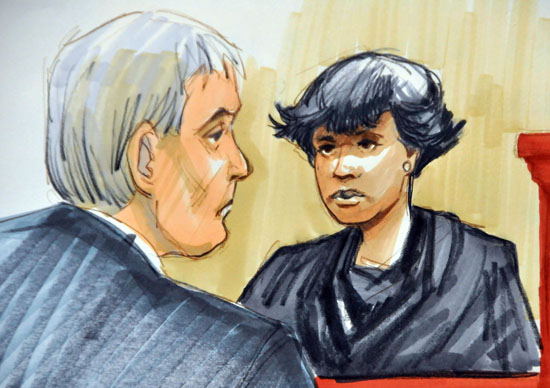 Emotions ran high Monday (Apr 23) as Jennifer Hudson bravely took the stand to testify in the murder trial of William Balfour, the man accused of killing her mother, brother and 7-year-old nephew nearly 4 years ago in Chicago.
Dressed in all black with her hair pulled back into a ponytail, Hudson — the first witness called after Balfour's prosecutor and defense attorney's opening statements — spoke in a quiet voice and was asked by the judge to speak up at one point.
Though Hudson's sworn statement wasn't related to the murders, since she wasn't at the home or even in Chicago at all when they occurred, the former "American Idol" finalist's testimony included details about her family, and how they didn't like Balfour and didn't want her sister Julia Hudson to marry him.
"I would tell Julia over and over again not to marry William," Hudson said as her voice cracked and she struggled to hold back tears. "None of us wanted her to marry him; myself, my mother, or my brother, we did not like how he treated her and I didn't like how he treated my nephew."
When she was asked to identify Balfour, she poked her head around the judge's bench and pointed right at him. "He's sitting right there," she said.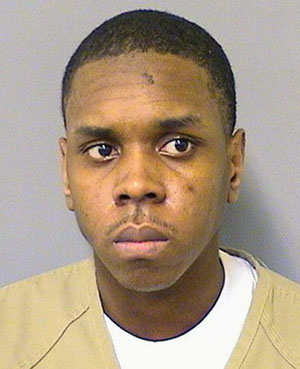 Balfour is accused of shooting and killing Hudson's mother Darnell Donerson, her brother Jason Hudson and her 7-year-old nephew Julian King on October 24th 2008. Prosecutors believe he acted out of spite after Julia told him that she wanted a divorce.
In her sworn testimony, Hudson recalled the day she found out that her family had been murdered. She said she knew something was wrong when she woke up in Tampa, FL one morning and hadn't heard from her mother.
"I noticed that — I'm looking to see the text from my mom and it wasn't any," she said. "I kept sitting there wondering, like that's strange. That was the first thing I said, 'My mom didn't text me.'"
Hudson says a phone call an hour later from her frantic sister was how she found out her mother and brother had both been murdered, and her young nephew was missing.
"My sister called my fiance's phone," she recalled. "I remember it like yesterday, obviously. And he couldn't understand what she was saying because she was so hysterical and I grabbed the phone from him and that's when she told me."
Jennifer said she flew back immediately to Chicago to identify the bodies of her mother and brother at the morgue, and offered a $100,000 reward to help find her nephew.
"We were trying everything, anything we could do to get him back," she said.
Unfortunately, two days after posting the award, Hudson was asked to return to the morgue to identify Julian's body, which had been discovered in a vehicle stolen from the Hudson family's home.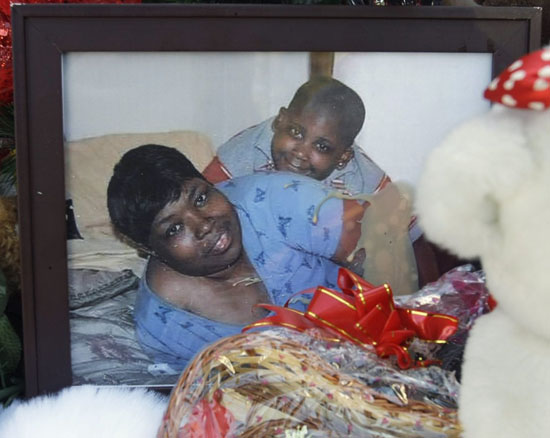 Hudson reportedly struggled to maintain her composure as she remembered happier times with her nephew, saying, "It was always me and my Tugga Bear. That's what I called him."
When asked to identify her mother Darnell Donerson in a photo, the Oscar winner answered, "That's my mommy."
Hudson's testimony also offered a little insight into the financial support she provided for her family, particularly after she won the Academy Award for best supporting actress in 2007.
In the months before the murders, Hudson had purchased a computer for her sister, a car for her brother, and she also left her mother several signed checks to pay utility bills.
Prosecutors will likely point to the financial assistance Hudson provided in an effort to dispel a claim from the defense that Jason Hudson (her brother) sold drugs to support the family.
During opening statements, Defense Attorney Amy Thompson suggested to jurors that the killings could have stemmed from alleged drug dealing by Jason Hudson in the crime-ridden South Side neighborhood where they lived.
The defense's argument is that police pinned the murders on Balfour because they were pressured to make an arrest due to the attention placed on the case.
"As soon as that (that a celebrity was linked to the case) became known, they knew coverage would explode," Thompson said. "The police were on the hook. They had to find their man and find him fast."
In addition, there are no known witnesses to the slayings, and it's not clear what physical evidence (including fingerprints or DNA) exists. During her opening statement, Thompson said DNA found on the gun and fingerprints found in the SUV didn't match Balfour's.
The killings happened the day after Julia Hudson's birthday, she revealed in her testimony. The day before the murders, prosecutors say Balfour became enraged after he saw balloons outside the home that he thought were from Julia's new boyfriend.
The next day, Prosecutors say Balfour went inside the three-story house at around 9 a.m. and used a handgun to kill Hudson's 57-year-old mother in the living room before he shot her 29-year-old brother Jason twice in the head as he lay in bed.
Balfour allegedly drove off in Jason Hudson's SUV with Julian inside. Authorities say he eventually shot the 7-year-old boy in the head and fled the car.
Balfour has pleaded not guilty to three counts of first-degree murder in the October 2008 slayings. If convicted of at least two of the murder counts, the 30-year-old will face a mandatory life sentence of life in prison.
[Sources: AP, Chicago Tribune]
Be the first to receive breaking news alerts and more stories like this by subscribing to our mailing list.