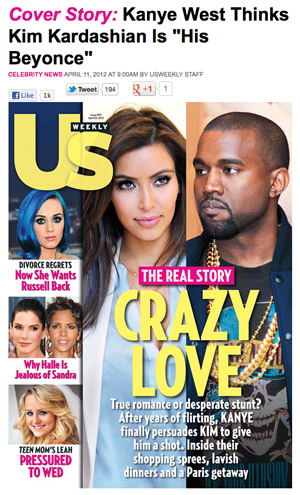 Looks like Us Weekly got their own "exclusive" story wrong last week!
According to the popular tabloid, a source told them that Kanye West thinks that reality star Kim Kardashian is his "Beyonce" … but Kanye says he never said such a thing.
The source was quoted as saying in the cover story, "It's not a PR stunt. They're perfect for each other. He thinks she's his Beyonce!"
Well, after speaking to "Watch the Throne" rapper the magazine has now back tracked on their original "Kanye West Thinks Kim Kardashian Is His Beyonce" story.
Breaking his vow of silence towards the media, West told the weekly tabloid, "…of course there are a lot of media inaccuracies surrounding this past couple of weeks, especially the 'She's my Beyonce' quote. I would never compare anyone to my friend's wife."
He continued, "Come on now, that doesn't even sound like me. If I don't say something in a rap or on Twitter, it's not true."
Not one to let the injustice slide by, Gossip Cop poked fun at US Weekly's mishap:
The buzzworthy quote was picked up by a number of outlets, and even used to parody the couple's new romance on "Saturday Night Live."

Then today, the tabloid posted an "exclusive" with the headline, "Kanye West: I Never Said Kim Kardashian Was 'My Beyonce.'"

Umm… what?

But really, instead of having back-to-back "exclusives" on Kardashian and West, as Us presents it, the tabloid was just wrong last week, and is now being forced to correct its mistake.

We know the weather's getting warmer, but it's still too soon for these flip flops.
The question still remains though … are Kanye West and Kim Kardashian for real?
What are your thoughts?
Be the first to receive breaking news alerts and more stories like this by subscribing to our mailing list.