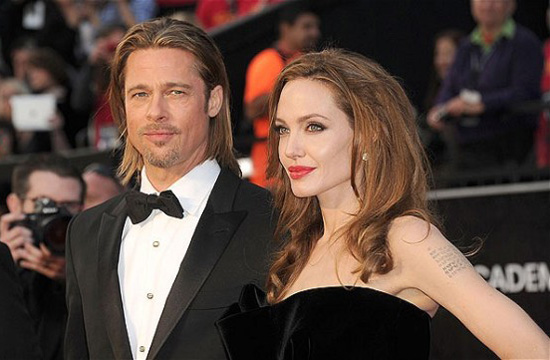 Brad Pitt finally put a ring on it. The actor and his longtime partner Angelina Jolie have been together since 2005, and after years of wedding and engagement rumors, it looks like the Hollywood megastar couple will be walking down the aisle some day in the near future.
Pitt's reps confirmed the news that he and Jolie were engaged this past Friday.
"Yes, it's confirmed. It is a promise for the future, and their kids are very happy. There's no date set at this time. Brad designed the ring," Brad Pitt's representative Cynthia Pett-Dante said in a statement.
According to various reports, Beverly Hills jewelery designer Robert Procop designed the engagement ring Brad used to propose to Angelina, and says he worked with the actor for about a year to make it just right.
"Brad had a specific vision for this ring, which he realized over a yearlong collaboration with Robert. He wanted every aspect of it to be perfect, so Robert was able to locate a diamond of the finest quality and cut it to an exact custom size and shape to suit Angelina's hand," Procop said in a statement. "Brad was always heavily involved, overseeing every aspect of the creative design evolution. The side diamonds are specially cut to encircle her finger. Each diamond is of the highest gem quality."
Last week, Angelina Jolie was spotted wearing what looked like an engagement ring at a private event in Los Angeles, which sparked initial reports that she and her life partner Brad Pitt were planning to make their relationship official.
Angelina and Brad have six children together, and they all have been urging the superstar couple to tie the knot now that they are older and understand what marriage is.
"They figured out what marriage is now, they're old enough so now they kind of like the idea of it," Angelina Jolie told 'Extra' in February. "But we're still convinced that half of them just want to party. They've heard there's good cake."
This past January, Brad Pitt told The Hollywood Reporter, "we'd actually like to [get married], and it seems to mean more and more to our kids. We made this declaration some time ago that we weren't going to do it till everyone can. But I don't think we'll be able to hold out. It means so much to my kids, and they ask a lot. And it means something to me, too, to make that kind of commitment."
Congrats to Brad and Angelina and the rest of the fam!
Be the first to receive breaking news alerts and more stories like this by subscribing to our mailing list.