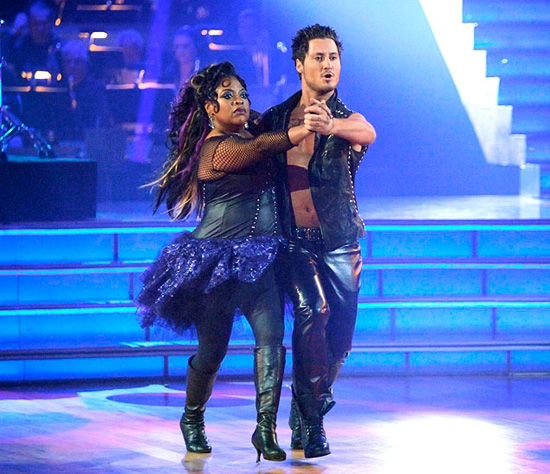 The View's Sherri Shepherd was shockingly voted off of "Dancing with the Stars" on Tuesday night's (Apr 10) elimination episode, and she apparently took it real hard.
In fact, Sherri was so devastated that according to Us Weekly, she skipped her post-show interviews.
A source inside the DWTS studio told the weekly publication, "She was crying pretty hard post show and everyone was hugging her. It's highly unusual for the eliminated celeb to skip press, especially someone who seemed to have a good attitude like Sherri."
Later on that night in an interview with Jimmy Kimmel, Shepherd appeared have lifted her spirits. She said, "It was a very big surprise to be eliminated. Carrie Ann Inaba said she's never seen me so expressionless, and I'm an actress, so that's like telling Gladys Knight she can't sing."
"As an actress, Carrie Ann's going to get me blacklisted," Sherri jokingly explained. Shepherd also told Kimmel how she appreciates the support she received from her View co-hosts.
Barbara [Walters] voted 12 times the first week, Elisabeth [Hasselbeck] tweeted [about it], Joy [Behar] was rooting for me — I know all my ladies were there for me every step of the way," she told Kimmel.
As Sherri made her first appearance on "The View" since her elimination this morning, the highly supportive audience began to chant "Sherri! Sherri! Sherri!" as the host/actress wiped away tears.
Shepherd was so overwhelmed, and explained her tears were "not a temper tantrum, but really tears of joy."
"I wanted to do this for so long, and to be taken off the ride so soon, it really was devastating," she said.
In response, her co-host Whoopi Goldberg said, "You know, we are not happy … she was robbed.
Sherri went on to share what the DWTS experience has done for her. "I learned I have stage fright, and have to get past it. And I was scared every week, and I learned to dance scared," she said.
When joining The View's panel later, professional dancer Val Chmerkovskiy said of his former dance partner, "Every moment was incredible for me. She's a huge star and I'm just a dancer so I really appreciate how kind she was to me. And she's exactly how she seems – that's how she is in real life."
In case you missed it (or want to check it out again) watch Sherri and Val's last DWTS performance below:
Be the first to receive breaking news alerts and more stories like this by subscribing to our mailing list.