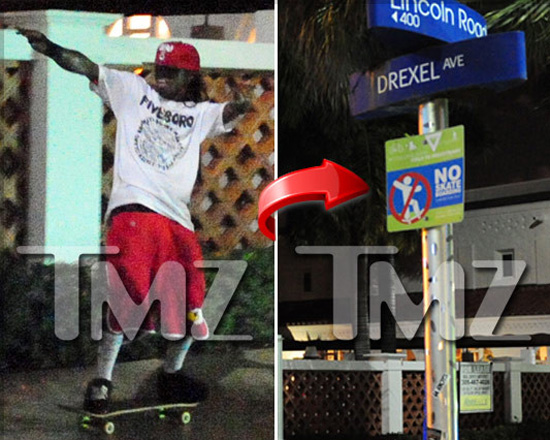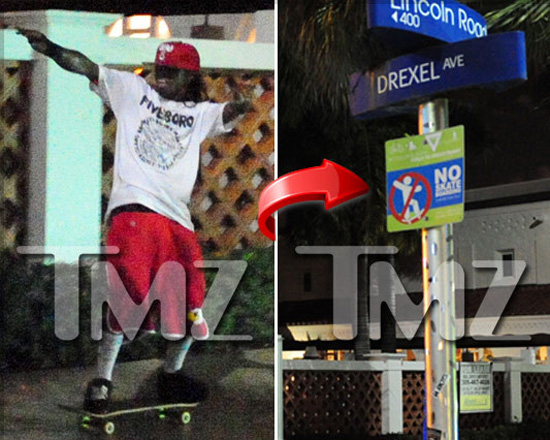 The paparazzi might want to think twice the next time they come across Lil Wayne and his team.
Last week, the rapper and his entourage allegedly got into an altercation with a photographer in Miami that resulted in the photog getting spat on and pushed to the ground (in the rain) and more.
According to a police report obtained by TMZ, the photog spotted Wayne and his entourage skateboarding outside some church (right beside a "no skateboarding" sign) so he decided to take a few pics.
The photog claims that after it started to rain, Wayne and his crew started getting ready to leave, so he followed the group to their car, taking pictures along the way.
Weezy obviously didn't find all of the attention flattering, and according to the police report, the rapper ordered his goons to take the man's camera, which allegedly led to roughly eight men surrounding the photog, and intimidating him into deleting several of his photos.
But that's not where it stopped. The photog also claims one of Wayne's dudes spat on him, while another pushed him to the ground.
He says the group also beat his bicycle with a skateboard before he was able to flee the scene. (Wait….they beat his bicycle with a skateboard??? HILARIOUS!!!!)
Below is some video footage from the incident, as well as a few pictures:
Be the first to receive breaking news alerts and more stories like this by subscribing to our mailing list.