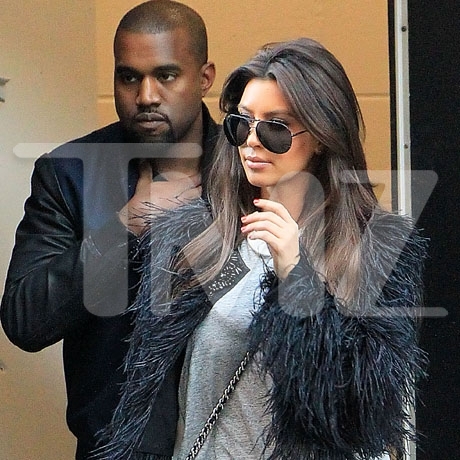 The feelings Kanye West expresses for Kim Kardashian in his newly released song "Theraflu" are true … because Kanye and Kim are actually dating now!
In "Theraflu," which was randomly leaked Wednesday night (Apr 4), Kanye confesses his love for the reality star, while also dissing her soon-to-be ex husband Kris Humphries:
"And I admit I fell in love with Kim … 'Round the same time she fell in love with him … That's cool, babygirl, do your thing … Lucky I ain't had Jay drop him from the team."
The "Jay" that Kanye is referring to is obviously Jay-Z, who is part owner of the New Jersey Nets, which is the NBA team Kris Humphries plays for.
Rumors of a romance between Kanye West and Kim Kardashian have been swirling for months, following Kanye's break-up with Amber Rose.
The rumors went into high gear shortly after Kim's messy divorce from Kris Humphries, but the two have continued to deny the reports, especially Kim Kardashian, who told Ryan Seacrest in a radio interview last month:
"We've been friends for years. It's so funny; you take a picture with someone, you support them. We just support each other; that's what friends do."
Despite Kim's constant denials, sources have revealed to TMZ that she and Kanye are dating "for real," as the website claims.
Further confirming the reports, the new couple were spotted leaving a New York City theater Wednesday night after a movie date to see "Hunger Games."
Check out the pics below:
What do you think about Kanye West and Kim Kardashian dating?
Be the first to receive breaking news alerts and more stories like this by subscribing to our mailing list.