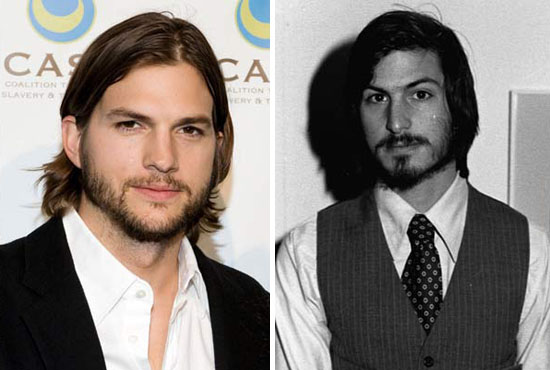 Ashton Kutcher will play the late Steve Jobs in an independent film about Jobs' early life and the founding of Apple, reps for the actor confirmed Monday (Apr 2).
The movie, simply titled "Jobs," will follow the tech innovator's life from when he and Steve Wozniak founded Apple in 1976, to when Jobs returned to the company in the late 90's after being forced out. The film won't cover Jobs' later years with Apple.
Steve Jobs died at age 56 last October after battling cancer.
Production for the biopic is scheduled to begin in May while Kutcher is on hiatus from his hit CBS series "Two and a Half Men."
34-year-old Ashton Kutcher, who first got his big break on the hit comedy series "That 70's Show," is known as one of the more tech-savvy Hollywood celebs.
With over 10 million followers, he is an enthusiastic user of popular social networking site Twitter, and was one of the site's early adopters. Kutcher also has invested in several Silicon Valley start-ups.
Ashton's movie will also reportedly face some competition from Sony Pictures, which is also developing a Steve Jobs biopic. According to reports, The Sony flick will based on the best-selling book by Walter Isaacson, released last October shortly after Jobs' death.
What do you think about Ashton Kutcher playing Steve Jobs?
Be the first to receive breaking news alerts and more stories like this by subscribing to our mailing list.