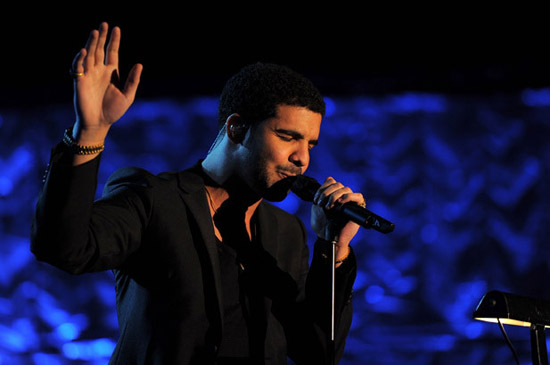 Drake still can't catch a break…
Before taking the stage in front of 18,000 people at London's O2 arena … Drizzy had a quick interview with UK newspaper "The Guardian" and spoke on recently being mistreated by Vibe Magazine, people hating on him for showing his emotions, how he uses drugs to cope with fame, and more.
Check out the excerpts below:
On why he doesn't do many interviews:
"I'm actually a very honest person, and sometimes I end up like, 'Man, I said too much.' It's hard for me not to tell the truth when you ask me. I'd rather tell you how I really feel. You do get certain publications in the States where, if things don't go according to plan they flip the story and it becomes very negative."

On his recent ordeal with Vibe:
"I didn't like the way I was treated. They ran this story about how I'm the most bitter guy, and my life is in turmoil. And I'm, like, a very happy 25-year-old kid living an amazing life. They tried to put a damper on my character, I guess because I didn't play according to their rules."

On if his emotionally open persona is an act or a gimmick:
"I don't really have a gimmick or a 'thing'. I'm one of the few artists who gets to be himself every day. It doesn't take me six hours to get ready, and I don't have to wake up in the morning and remember to act like this or talk like that. I just have to be me. And people really like that."

On purchasing his new Hollywood mansion:
"It does often blow my mind how much I've attained." He recalls how, not long ago, he had an image of an LA mansion as his computer's homepage. It was way out of reach even for a rising actor. "It was priced beyond my comprehension," he says, then pauses to savor the feeling. "Five weeks ago I bought that house."

On negative comments from his critics:
"I can't lie to you. I read what they have to say and it's … character-building. There have been times when a negative comment about me would be the be all and end all, and I'd wonder, Why do you hate me so much? Why would you tell me that you want to kill my mom or see me dead? It's scary for me to say this on record, but artists are only human, and we seek validation like everyone else. You just have to come to the conclusion that it's OK, there are going to be people who like you and people who don't. Luckily there are millions of people who love me and a few who don't. No one ever says anything to me in person. I mean, I've had it happen to me before but it's just silly, like, 'Oh Drake, you're a pussy!' and then they drive off really fast. But I get it, man. It's being young. It's funny. If I wasn't in this position, would I do dumb shit? Maybe."

On people hating on his showing of emotions:
"There are people who really hate me and everything I stand for, like, 'He's so soft'. But I'm not soft. I'm just not one of those people who's closed off emotionally. I went through too much with my father and my mother, watching her go through her shit and be hurt … I've seen too many people cry. Plus, I've had too many girls to ever feel uncomfortable about the man that I am."

On his rumored drug use:
"There's the overwhelming stress, how tired you are, the weight on your shoulders of going out there and giving 18,000 people entertainment… it's a lot of pressure. Have I sipped codeine before? Yeah, of course. Have I smoked weed? Yes. Do I drink wine? Yes. But do I do it excessively? No. I'm not a reckless guy. I do it all within moderation. I'm not into drugs … I mean any outside the ones I just mentioned. Nah, that's not me. I care too much about what I have. I'm not going to throw it away for that."
Spotted @ Necole Bitchie
Be the first to receive breaking news alerts and more stories like this by subscribing to our mailing list.