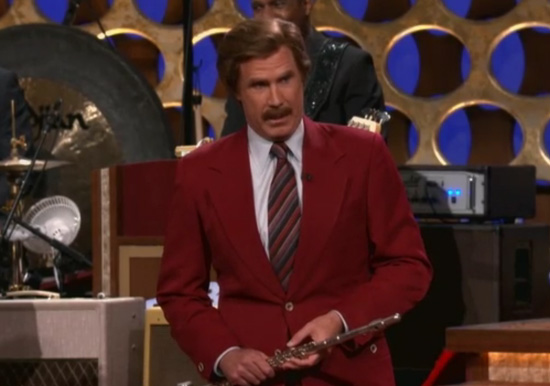 It's official. "Anchorman 2" is happening!

Will Ferrell paid a visit to Conan O'Brien's TBS late-night talk show in character as Ron Burgundy and announced the sequel to the hugely popular 2004 comedy "Anchorman: The Legend of Ron Burgundy."
After playing some jazz flute and going back and forth with Conan O'Brien, Will Ferrell Ron Burgundy made his big announcement:
"As of oh-nine-hundred hours Mountain Time, Paramount Pictures and myself, Ronald Joseph Aaron Burgundy, have come to terms on a sequel for 'Anchorman.' It is official: There will be a sequel to 'Anchorman.'"
Mr. Burgundy then played more jazz flute before he disappeared into the curtains.
A release date for "Anchorman 2" hasn't been revealed, but according to reports, actors Paul Rudd, Steve Carell and David Koechner will reprise their roles from the original movie.
The original "Anchorman" was released in July 2004 and grossed US$28.4 million in its opening weekend before going on to gross over $85 million in North America, and $5.2 million in the rest of the world for a worldwide total of $90.5 million, well above its $26 million budget.
Are you looking forward to "Anchorman 2?"
Be the first to receive breaking news alerts and more stories like this by subscribing to our mailing list.