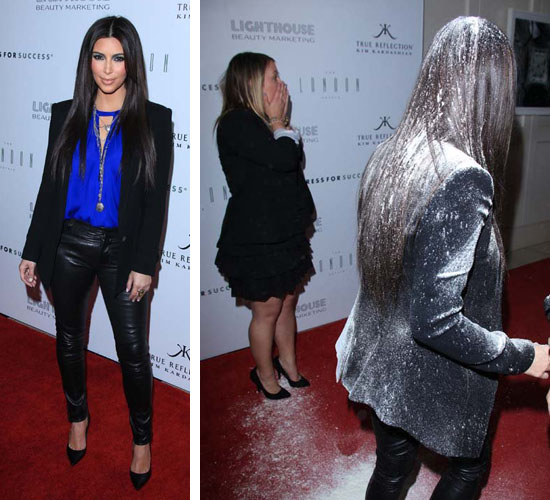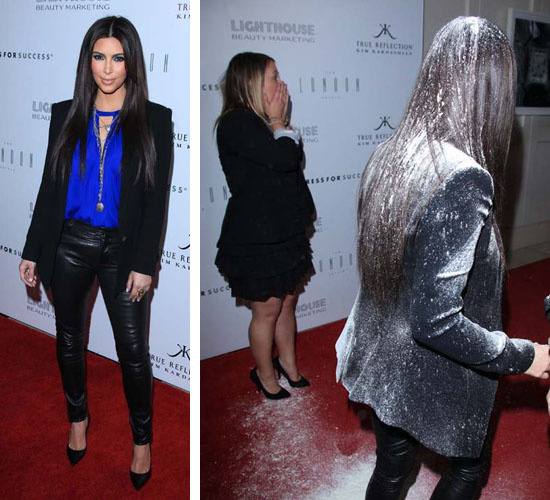 Kim Kardashian was the unfortunate victim of a "flour-bombing" Thursday night (Mar 22) after a woman reportedly threw white powder all over the reality star. (At least try to contain your laughter.)
Kim was walking the red carpet with her mom Kris Jenner at the London Hotel in West Hollywood to promote her new fragrance line "True Reflection" when a random woman walked up from behind, and dumped a bunch of white powder all over her head, and shouted "Fur hag!" at her.
Kim brushed the incident off though (literally) as she reportedly went to a private room, took the jacket off, brushed the powder out of her hair and then returned to the event.
According to TMZ, the fire department was called and they examined the white powder to make sure it wasn't a dangerous substance. They determined it was cooking flour.
Though cops detained the woman who threw the flour, the L.A. Sheriff's Department says Kim decided not to press any charges and the woman was released.
PETA — the most obvious suspect in the flour bombing, since the woman shouted "Fur hag!" — also released a statement denying any involvement with the incident, but they say they still support the unnamed attacker.
A rep for the People for the Ethical Treatment of Animals tells TMZ … "It was not [us]. We were given the video by an anti-fur activist on the scene."

Still, a rep for the organization explains, "PETA has tried everything from polite letters to public protests, but Kim Kardashian has not been moved by the news that animals are beaten, electrocuted, and even skinned alive for real fur garments. Whoever threw that flour may reach her when our polite appeals did not."
[Photos: CG]
What do you think about Kim Kardashian getting flour bombed?
Be the first to receive breaking news alerts and more stories like this by subscribing to our mailing list.