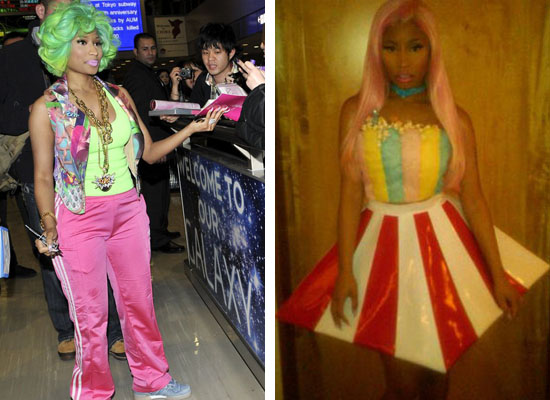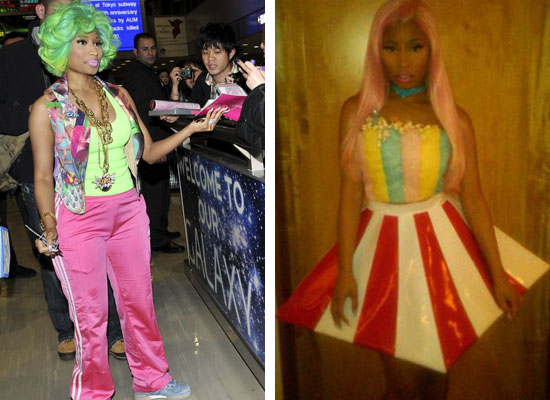 With just weeks left until the release of her next album "Pink Friday: Roman Reloaded," Nicki Minaj flew to Tokyo, Japan to kick off her worldwide promotional tour and brought her eccentric style along with her.
When she first touched down in Tokyo Tuesday morning, the Young Money rapper wore an eye-catching outfit, comprised of pink Adidas track pants, a pair of baby blue winged Adidas sneakers, a bright green tanktop she paired with a patterned vest, and of course, a bright green wig from her extensive collection of multi-colored hair pieces.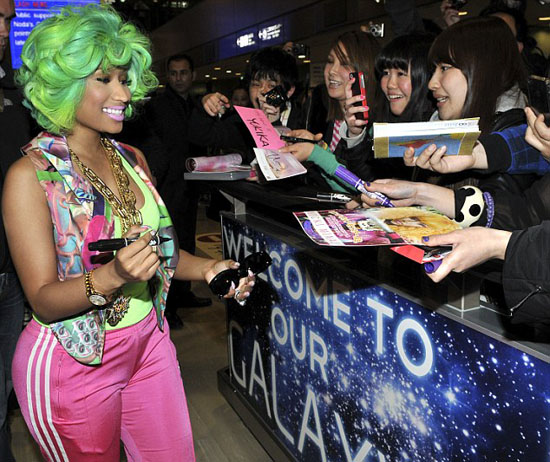 Nicki was also spotted signing numerous autographs for her adoring Japanese fans as she made her way through the Tokyo International Airport.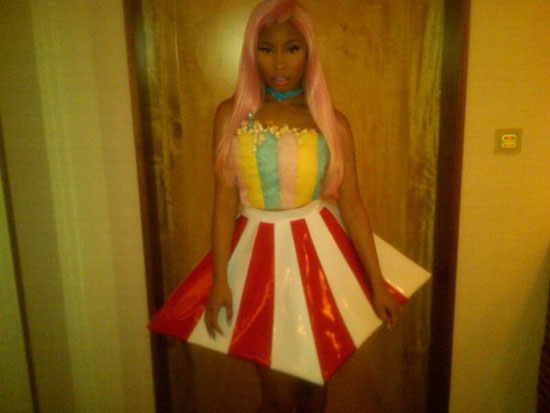 The next day she was photographed wearing a pink wig and a popcorn dress with real popcorn overflowing out of her bosom. "Japan. Outfit/Wig #2. Movie. Popcorn," she tweeted earlier in the day.
Minaj seems to be enjoying the attention she's getting in Japan too. This is her first time in the country and she has been using her Twitter account to thank all of her Japanese fans (and Jesus) ever since she touched down:
Barbz, they melted my heart. I told them how much they remind me of you guys and they started screaming. I'm obsessed w/their souls.
Whenever I say Harajuku Barbie they erupt. Its like…I can't take it. Jamaica, Queens to Tokyo yo…like da kid been shoutin dem out 4ever!
God is above & beyond all that you can conceive w/your natural mind. I thank him. Thank you Jesus. You are LORD.
Nicki Minaj's highly anticipated sophomore album "Pink Friday: Roman Reloaded" officially releases on April 3rd.
Check out more pics of her in Tokyo, Japan below:
Be the first to receive breaking news alerts and more stories like this by subscribing to our mailing list.