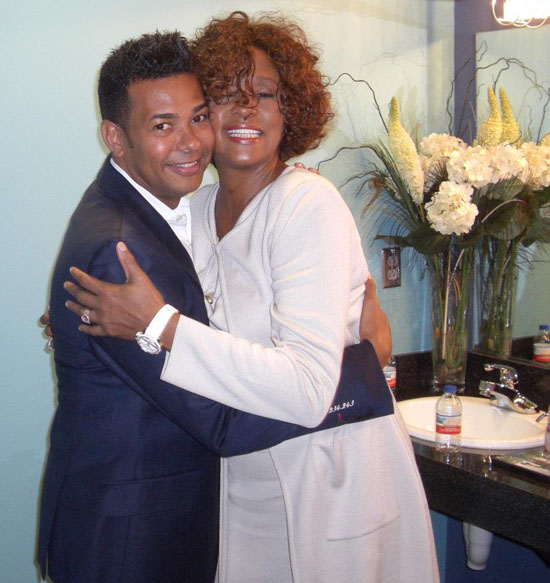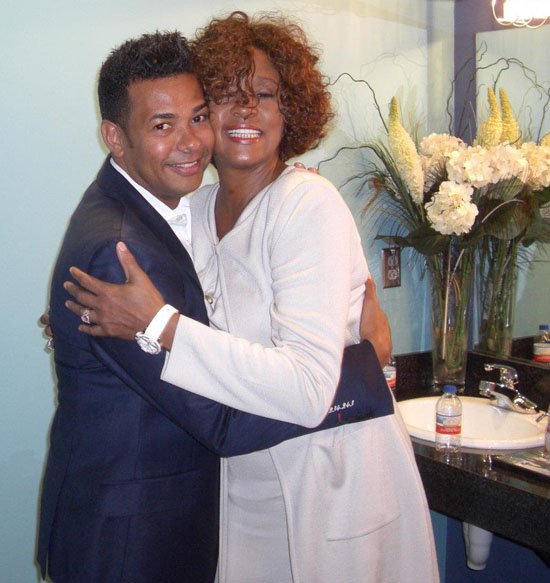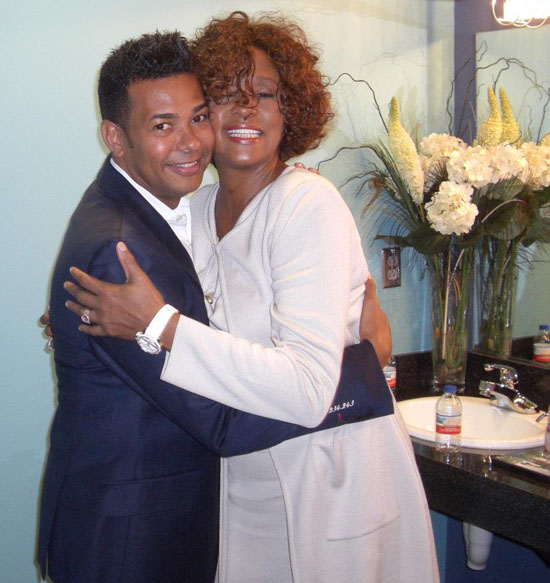 The secret is finally out. The name of the person who sold Whitney Houston's casket photo is … Raffles van Exel!
According to a report published by Forbes Magazine last week, sources at the Whigham Funeral Home in New Jersey know for a fact that a man named Raffles van Exel is the person who sold the heart wrenching photo of the late R&B icon Whitney Houston's body lying in her golden coffin.
But who the hell is this guy?
Forbes says that Raffles van Exel, who also uses the aliases Raffles Benson and Raffles Dawson, is a so called "close friend" of Whitney's who attended not just one, but TWO private viewings for the singer held at the Whigham Funeral Home in New Jersey.
The first viewing was held on Friday, February 17th, the night before the memorial service, and the second was held Sunday morning before the burial.
Staff at the funeral home — who have vehemently denied having any involvement with the photo leaking throughout this entire ordeal — say they noticed van Exel right away.
Though he's not a blood relative of the Houston's, his apparent close association with Whitney Houston allowed him to travel with the family on a private jet from Los Angeles to New Jersey prior to the services.
Van Exel was also literally the ONLY non-family member who attended both viewings, and he also accompanied Patricia Houston — Whitney's former sister-in-law and manager — in her car to those, as well as the the funeral and burial services. One source says van Exel even had his own bodyguard with him, which was a bit unusual.
READ: Whitney Houston Casket Photo Published by the National Enquirer
A source from the funeral home says when the picture showed up on the cover of the Enquirer, they told the Houstons they thought van Exel was behind it, but they basically brushed them off.
"They didn't do anything about it," said the source. "They're protecting him. How come they haven't gotten him out of their circle?"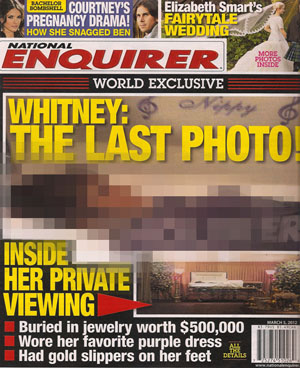 Many of Whitney Houston's fans are blaming the Whigham Funeral Home for leaking the photo. While conducting another funeral in another part of town, one of the funeral directors says she was spat on by a stranger.
The funeral home says they're concerned that fans think they allowed the National Enquirer picture to be taken, but they didn't have any control over who the family invited into the private viewing room.
"The Houston family invited everyone into that room. We had no role in that. We were told their security would handle everything. They didn't give us responsibility for that."
Around 35 people attended the first viewing, and the Whighams say they didn't know everyone, but what they do know, is that absolutely none of their people were involved.
In fact, one of their employees say they actually saw Raffles van Exel snap the photo with their own two eyes.
On the cover of the National Enquirer issue bearing Whitney's casket photo, it states that the singer was buried in $500,000 worth of jewelry. But the funeral home's owner Carolyn Whigham says that bit of information is false.
"It was costume jewelry," she said. "Please…"
Multiple calls and e-mails to van Exel from various media outlets have gone unreturned, and his voice mail box is full.
Forbes writer Roger Friedman says van Exel answered one of his emails, asked what he wanted, and hasn't responded since.
Friedman also notes who this isn't the first time Raffles van Exel has gone underground following a scandal:
The famous R&B singer George Benson ("Give Me the Night," "Turn Your Love Around") has his own story about Raffles.

Around 2005, he says, his lawyer had to send van Exel a cease and desist letter warning him not use the name Benson or describe himself as Benson's son. George Benson has four living sons, and three deceased.

Benson says that around 2004-2005 van Exel had ingratiated himself into Benson's mansion in Engelwood, New Jersey.

"He was there for a year on or off," Benson told me. One day, Benson says, van Exel called him and told him to come home; he thought there'd been a robbery.

When Benson returned to the house, he discovered $25,000 in cash was missing. He'd taken out of the bank to pay for home repairs. By the time he made the discovery, van Exel had vanished.

"We never saw him or heard from him again," Benson recalls. Without tangible proof, he couldn't press charges with the local police. van Exel, as I reported in my original story, has sometimes been sued under the name Raffles Benson.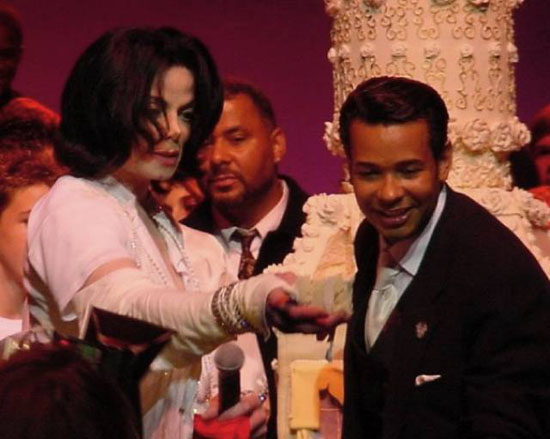 Raffles van Exel — originally from Amsterdam — was also really good friends with Michael Jackson, and was close with both him and Whitney at the time of their respective deaths. (How convenient…)
Van Exel was also reportedly on the fourth floor of the Beverly Hilton Hotel in one of Whitney's suites when she died, and appeared downstairs in the lobby shortly thereafter sobbing, wearing aviator sunglasses.
And get this. The guy even went on to attend the Clive Davis party, where he actually went around telling people he was the one who found Whitney dead in the tub, in an obvious attempt to gain sympathy from Houston's big time celebrity friends and associates.
Despite the shock of Whitney's death, Raffles still made it downstairs to Clive Davis's party. He was dressed in formal wear, had Whitney's tickets in his hand, and intended to sit at her table.

Just inside the ballroom he was comforted by celebrities to whom he related his story—"I found Whitney."

Gayle King hugged him. Quincy Jones listened patiently to his story. A security guard told me later, "Well, he was up there."

He was also hanging around with Houston all week prior to her death. On Tuesday when she emerged from a nightclub, looking disheveled, Raffles appears in a photograph on TMZ like a deer in headlights.

He is standing right behind her in a powder blue suit. On Twitter, he wrote: "STOP reading the stupid blogs.. Whitney had a great time, she looked amazing. Nothing was wrong, it was just DAMN hot in that club."
But once again … who the hell is this guy? And how does he always get in good with celebrities?
Forbes contributor Roger Friedman continues:
He's one of Hollywood's mysteries. I first met him in 2005 hanging around the Jackson family during Michael Jackson's child molestation trial. After Michael went abroad, Raffles was often seen with Michael's father, Joseph Jackson.

He trades on being an "insider" when there's a scandal. No one really knows him, but he's always where there's action and celebrities.

On the internet he claims to own a number of companies including Raffles Entertainment. He's also been sued a couple of times, once by a partner in something called Max Records, Inc., and once by a private aviation company in Los Angeles.

I spoke to the plane company and they said they can't comment because the situation is ongoing.

On Twitter he claims to be managing "my girl," Chaka Khan. There are plenty of pictures of Raffles on the internet with celebrities. You can see him with everyone from Magic Johnson to Sandra Bullock.
This Raffles van Exel is a SERIOUS con artist!
Watch this video of him basically teaching people how to do what he does (which is basically lie to celebrities to get in good with them) here:
Your thoughts?
Be the first to receive breaking news alerts and more stories like this by subscribing to our mailing list.