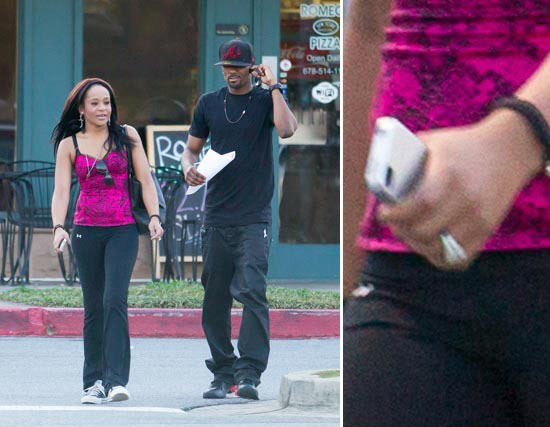 According to new reports from People.com, multiple sources are claiming that Bobbi Kristina and her new "boyfriend" (formerly her "adopted brother") Nicholas Gordon are getting married.
Shortly after announcing their relationship on Twitter last week, rumors are now swirling that the pair may be engaged, especially after Bobbi Kristina was spotted out with Nick wearing a diamond ring on her engagement ring finger.
One source tells PEOPLE, "Yes, they are engaged, but the family is trying to coax her away from it. "

Another source says, "Nick asked Krissi about a week ago to marry him" and that she's wearing a ring that once belonged to her mom. But the source doesn't know if Brown said yes.

The source does believe that Brown's grandmother, Cissy Houston, "is worried."
19-year-old Bobbi Kristina and 22-year-old Nicholas have been spotted getting affectionate in public, and by the looks of it, they don't care who sees.
PHOTOS: Bobbi Kristina and Nicholas Gordon Spotted Kissing and Holding Hands in Atlanta
Just last week, paparazzi in Atlanta snapped a series of photos of the "couple" sharing kisses and holding hands while running errands in Atlanta, not too far away from Whitney Houston's former townhouse, which they're both living in together, alone and unsupervised.
At the urging of her daughter, Whitney — who died last month in Beverly Hills — took Nicholas into her home about a decade ago and has been living with the family in that home ever since, though Whitney never legally adopted the young man.
A close family friend tells People Magazine, "I have always felt there was some interest beyond a platonic interest in each other."
Bobbi K's family, especially her grandmother Cissy Houston, has privately expressed outrage over the romance, with Ms. Houston calling it "incestuous."
Cissy Houston is reportedly telling friends Nicholas is a bad influence and is taking advantage of her vulnerable granddaughter. According to recent reports, she is also said to be taking legal action to get him evicted from Whitney's Atlanta townhome.
Your thoughts? Do you think Nicholas Gordon is taking advantage of "vulnerable" Bobbi Kristina?
And do you think they are REALLY engaged?
Be the first to receive breaking news alerts and more stories like this by subscribing to our mailing list.