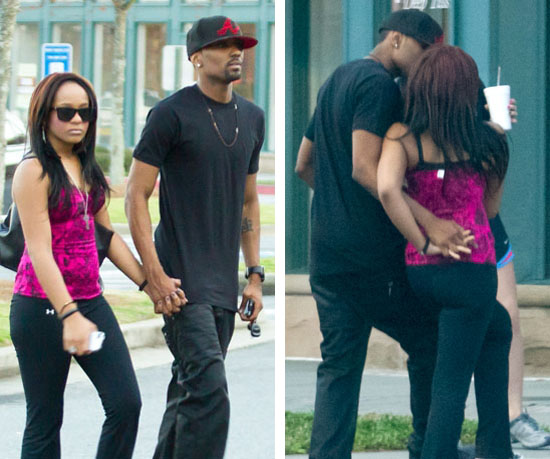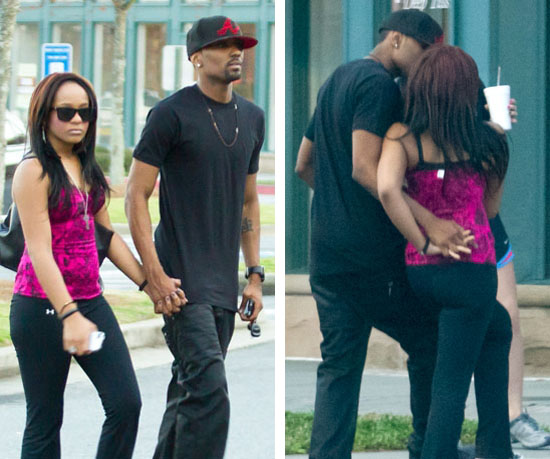 It's official. Bobbi Kristina is dating her secret adopted "brother" Nicholas Gordon. And after all of the rumors and speculation, we now have the pictures to prove it!
Bobbi and Nicholas were spotted "engaging in some hardcore PDA," as TMZ put it, while grabbing some lunch in Atlanta this past Tuesday (Mar 13).
In the photos (AND the accompanying video footage), the "couple" can be seen holding hands, and at some points, even KISSING!
Though all of this is a bit strange and unusual, we can't say we didn't see any of it coming from a mile away.
Last week came a report from HollywoodLife.com claiming that not just one, but TWO, eyewitnesses revealed to them that they saw (with their own eyes) 19-year-old Bobbi K and 22-year-old Nick G — who are currently living together (alone) in Whitney's former townhouse in Atlanta — kissing each other on the lips during a shopping trip to Target.
"Bobbi and Nick were in the music section and then all over the store," two sources revealed. "Bobbi was kissing him on the mouth and holding hands. They were laughing and smiling and seemed SO happy."
Further adding to the speculation was a photo Nick posted to Twitter (below) that showed him and Bobbi K looking extra "close."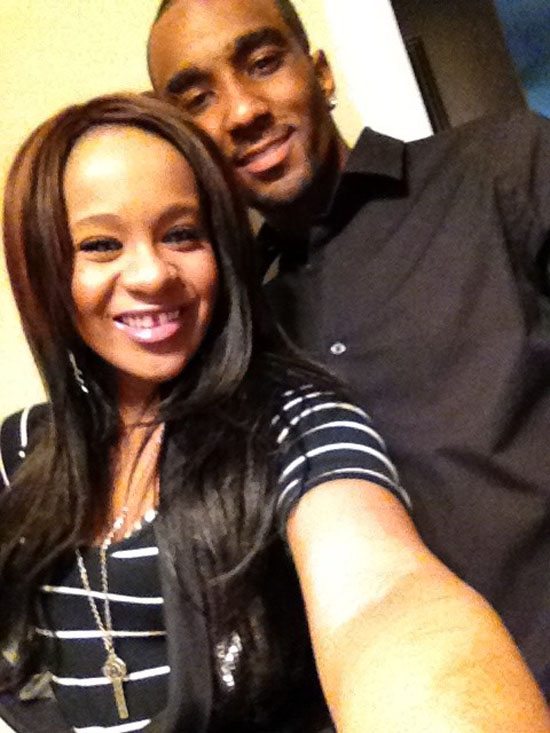 Adding to the speculation even more was a series of "confirmation tweets" from Nick, who sounds like he has definitely been reading the blogs:
Yea we got a little closer and what!!! All the haters that don't know us or the real story can unfollow me. I don't give a f**k. I've proved my loyalty to her and the Houston family. I don't owe any of you anything. Ha I don't even know y'all haters….Some ppl have no lives so they gotta be in ours.

For the stupid ppl out there she gave birth to 1 child. And she trusted me with EVERYTHING!!!!!!!!!!!!!… She called me her "God Son." I swear some ppl in this world act like they don't have a brain…
Bobbi Kristina hasn't used Twitter since December, but when the two were tweeting back and forth, they would refer to each other as "baby sis" and "brudder." However, these days, they're probably using other pet names, like "baby" and "boo."
Many are calling Bobbi and Nick's relationship "controversial," but they don't seem to care. And Whitney herself may have even approved of the pair's relationship, seeing as they have been living together alone and unsupervised in her Atlanta townhouse for some time now, even long before her death last month.
Sources close to Bobbi K told E! News recently that she and Nick met about 10 years ago when they were younger, and Nick told Bobbi K that he was going to enlist in the Army after high school to escape drama with his own family.
Bobbi told Whitney about Nick, and expressed that she didn't want him to go, so Whitney agreed to take Nick in as her own son, though she never "officially" adopted the young man, who Bobbi Kristina's friends described as the "man of the house" since her dad Bobby Brown wasn't around.
Now it looks like their relationship has gone from "brother and sister" to "boyfriend and girlfriend." Can you say … "weird?" Or better yet … "gross?"
[Photos: TMZ via Splash News]
What do you think about Bobbi Kristina and Nicholas Gordon's odd "relationship?"
Be the first to receive breaking news alerts and more stories like this by subscribing to our mailing list.