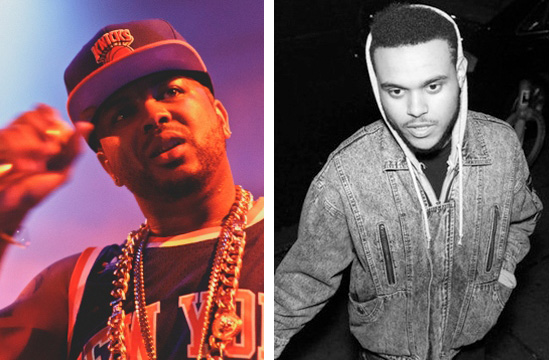 Looks like the legendary art form of "beefing" has slowly trickled down from the Hip-Hop community … to the R&B community. (Can't we all just get along?)
R&B singer/songwriter The Dream recently performed in concert at New York nightclub S.O.B.'s Sunday night (Mar 11), and during his set, he made a couple of comments in an apparent diss to male R&B singers "that sound like me," as he put it.
"I haven't done a show in close to two years. And ever since then, there's like, four n*ggas that sound like me now. I'm just being honest."
After R&B newcomer The Weeknd caught wind of the hit-maker's comments basically directed towards him and a few other up and coming male singers, he lashed out at The Dream via his Twitter page.
In a series of tweets, The Weeknd pulled no punches as he expressed to The Dream how he felt about him:
Hamburglar lookin' ass n*gga…
All i need are my brothers and my fans… f*ck the bullsh*t.
This n*gga is so hood, he thinks my name is the weekender…
I was raised old fashioned, you get at me, I get at you… ain't no sideways sh*t about it…
After a second show in New York, The Dream responded with his own Twitter rant that was much longer and a lot more detailed. In it, he explains that he meant no harm with his statement, and he's got "nothing but love" for The Weeknd:
Like my father said. Say ur piece son if a man feel uncomfortable enough a cheat, and a liar will identify his self. Amen. Now I know 4 Sure. I said I was Honest not petty. Joke all you want. Grown Man.

Love killed Hate. I'm going to support the movement where if u can't say it in person don't say it. Nothing but love from here lil homie. Don't get fooled or tricked and try to come up on a n*gga like me, won't work just do you if u truly are then what we talkin bout.

Now ima leave it at that. Ill call ya phone if you wanna chop it up or if you feel a way.
He continued some hours later:
Seek knowledge at all times "if you have a unknowing of a mans true will Use the Word as a tool to unveil the shadow of a enemy. Naw…….I'm signed to my self. Selfmade, I built it ground up, you brought it renovated. Nice.

Love kills Hate I'm going to prove it! Watch. Machiavelli the art of war has nothing to do with a Gun. Its psych thing. U use words to make the opponent make a move that he can never….

Move back from the move the word is Permanent! The assumption of your move was merely a thought and now you know for sure….. Now we move. In silence the right way!

We on a whole other level ova here. No Calculated moves just Absolute ones. Yall better quit hypin n*ggas up. Can't beef by ur self. Beef wld have to mean insecurity R Jealousy two things I knw nthing about Im Dope!

Like I said I think the world of the boy. And nothing will change that. He's very talented. And its nothing for me to Say that. Aint enough RandB too Beef. And its no fun ballin by yourself. Restore Order. I will not do what the RandB nigga before me did. I'm Dope…..

Enough to share the success with any man Worthy! LoveCult! #TheLoveGang. But as my mother would Don't Take my Sweetness for a Weakness!
No word from The Weeknd on whether or not he accepts The Dream's "apology," or whatever the hell that was.
Your thoughts?
Be the first to receive breaking news alerts and more stories like this by subscribing to our mailing list.