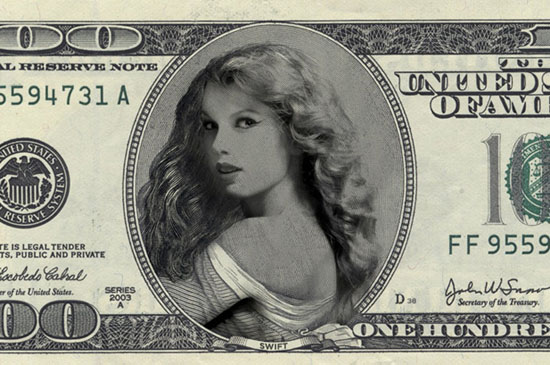 According to Billboard's Top Money Makers In Music list, country-pop sensation Taylor Swift is pulling in the most money in the music industry right now!
Just last year alone, Swift earned more than $35 million, from touring, album sales, royalties, endorsements, etc.
Coming in second on the list is U2 with $32 million, followed by Kenny Chesney, Lady Gaga and Lil Wayne, with $29 million, $25 million and $23 million earned respectively, rounding out the top 5.
Music industry newcomer Adele was No. 10 on the list with $13 million earned, mainly from the impressive sales of her latest album "21," which has spent the past 23 weeks at No. 1 on the Billboard 200 albums chart, making history as the longest-running No. 1 album in Nielsen SoundScan's history. (Sidenote: She probably would have been higher on the list, but she spent most of 2011 recovering from emergency vocal chord surgery.)
Also featured on the list of 40 money-making musicians is Sade, Bon Jovi, Celine Dion, Jason Aldean, Kanye West, Usher, Rihanna, Britney Spears and Katy Perry.
1. Taylor Swift – $35,719,902
2. U2 – $32,116,315
3. Kenny Chesney – $29,837,103
4. Lady Gaga – $25,353,039
5. Lil Wayne – $23,178,722
6. Sade – $16,382,809
7. Bon Jovi – $19,813,232
8. Celine Dion – $14,261,515
9. Jason Aldean – $13,409,011
10. Adele – $13,081,909
Click Here for the full Top 40 list!
Be the first to receive breaking news alerts and more stories like this by subscribing to our mailing list.