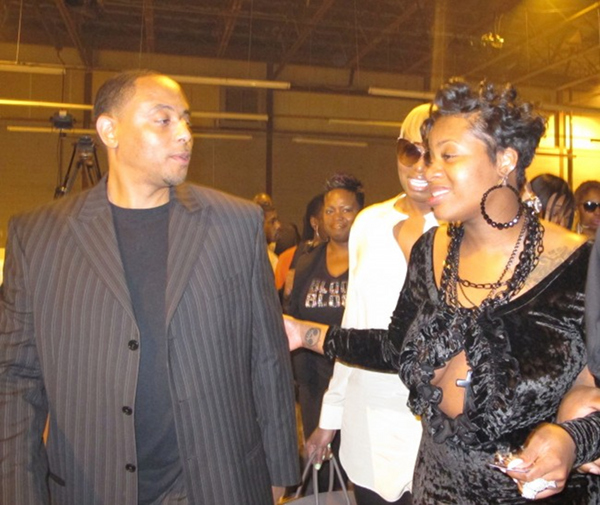 Fantasia Barrino stepped out in Charlotte, NC during CIAA weekend for the first time since giving birth to a son nearly 3 months ago.
Dressed in a rather interesting get-up (a velvet catsuit with her stomach exposed), the R&B singer was spotted hanging out with reality TV star NeNe Leakes and a few others.
In the photos, Fantasia appears to be smiling and laughing, and having a good time, however behind closed doors, she probably isn't so happy.
According to an exclusive report from Radar Online, Fantasia's married baby daddy Antwaun Cook is "having second thoughts" about being with the American Idol winner, and wants to go back to his wife Paula! (You know … the same woman Antwaun cheated on to be with Fantasia, who he had a baby with)
According to a family insider, Antwaun regrets giving up on Paula and their two children and while Paula is very hurt by what he did to their family, she's not exactly staying away from him either.

"Paula and Antwaun both ended up at Club RE:Public in Charlotte over the weekend and things got a little cozy between the two," the source said. "I don't know where Fantasia was, but she definitely wasn't in the club where they were!"

The source continued by saying that while Paula was receptive, she was still a little gun-shy with all the PDA.

"Antwaun was shoving his tongue down her throat and she kept having to push him away without trying to make a scene," the source explained. "He told Paula that she belongs to him because she's still his wife!"
Fantasia and Antwaun first started dating in early 2010 when he was still married to Paula. After Paula filed a homewrecking claim against Fantasia, the R&B singer tried to kill herself by overdosing on pain pills.
"What Fantasia doesn't know is that through all of this, Paula hasn't changed the locks on the house she once shared with Antwaun," the source revealed. "And Antwaun still has keys, so you can put two and two together."
The source goes on to reveal to Radar that Antwaun is no longer interested in Fantasia, and doesn't care if she knows that he is getting back together with his wife.
"Antwaun has lost interest in Fantasia," the insider said. "He was even egging people on to take pictures of him and Paula together…he didn't care who knew."
What that old saying?
"You'll lose him the same way you got him" — Yeah, that one!
Sounds like Fantasia is getting a healthy dose of the same medicine Paula was forced to swallow at one time. Oh, how the world comes full circle…
Your thoughts?
Do you feel sorry for Fantasia?
Be the first to receive breaking news alerts and more stories like this by subscribing to our mailing list.