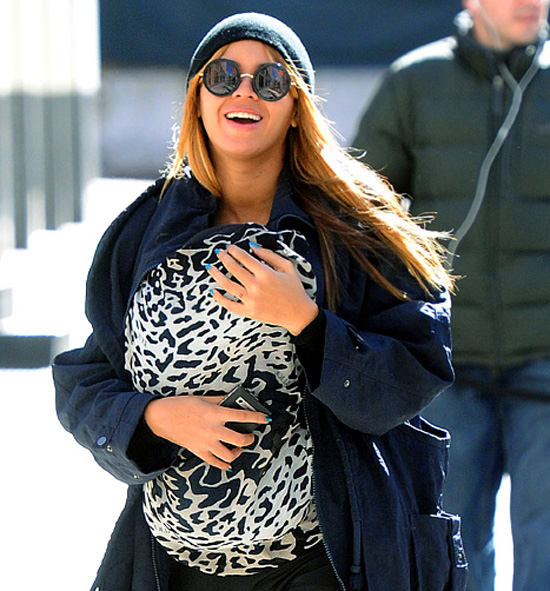 Beyonce is slowly becoming an advocate for breastfeeding following reports from US Weekly that the superstar mom was spotted nursing her newborn daughter during a recent outing with Jay-Z.
Last Saturday, Beyonce, Jay-Z and their then 7-week-old daughter Blue Ivy Carter made their first "official" public appearance as a family when paparazzi snapped a few photos of them exiting Sant Ambroeus restaurant in New York City following a lunch date.
PHOTOS: Beyonce and Jay-Z's First Public Appearance with Blue Ivy Carter
A source revealed that at one point during the family luncheon, Beyonce actually breastfed Baby Blue Ivy right at the table!
Photographers caught up with the family as they left the restaurant, and Beyonce held her daughter close to her in a Baby Bjorn, a scarf wrapped tightly around it to keep the little one's face from being seen.
The very next day, a solo Beyonce — with her big bodyguard Julius close by, of course — was spotted holding Baby Blue close to her chest in an animal print baby carrier. And now that we know what we know, we can probably assume that she was breastfeeding then too.
PHOTOS: Beyonce Takes Blue Ivy Out for a Stroll in New York City
Reports of Beyonce breastfeeding her daughter out in public comes amid a "breast is best" movement started by a large group of mothers who feel like women are discriminated against for nursing their babies in public.
"By bringing breastfeeding into the mainstream, Beyonce can help break down barriers," one doctor tells ABC News.
What do you think about Beyonce breastfeeding Blue Ivy out in public?
Be the first to receive breaking news alerts and more stories like this by subscribing to our mailing list.