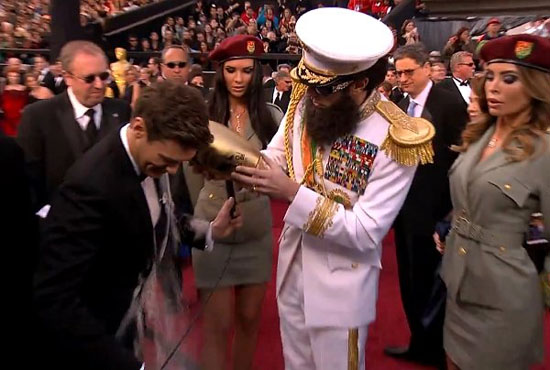 When Sacha Baron Cohen — in character as "The Dictator" — dumped an urn full of "ashes" all over Ryan Seacrest Sunday (Feb 26) on the red carpet of the Oscars, many wondered whether or not the TV personality was in on the stunt.
Turns out … he wasn't. And judging by his reaction, even if he was in on the prank, he would deserve to be nominated for an Oscar himself!
"I definitely did not know that he was going to do that!" Seacrest admitted during his radio show Monday morning.
However, Seacrest said that he did have his suspicious when Cohen's people called his people to see if he would be interested in interviewing The Dictator.
"Now when we said yes," Seacrest recalls. "In the back of my head I'm thinking this guy isn't coming as The Dictator to not do something – to what extent, I don't know. Would it be a joke or would it be something physical?"
Turns out … it was a little bit of both!
In case you missed it, or want to check it out again, watch below:
Did you think the "joke" was funny?
Be the first to receive breaking news alerts and more stories like this by subscribing to our mailing list.