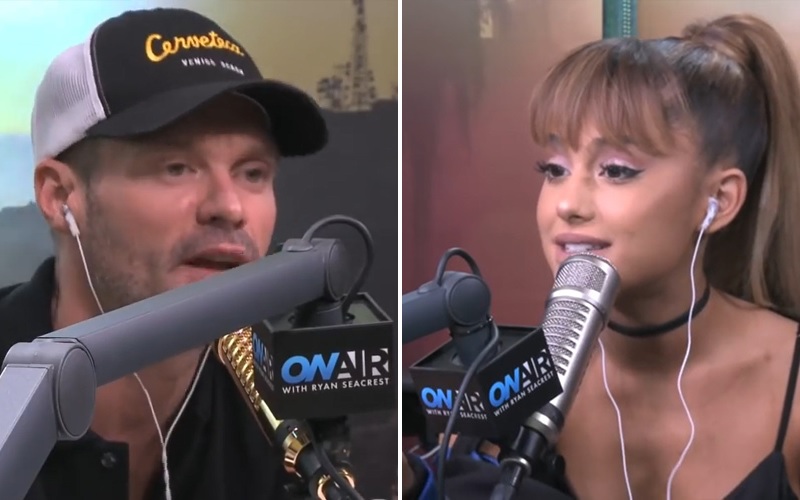 Ariana Grande is feeling a little sassier these days. Things seemed to get heated/awkward between the singer and Ryan Seacrest during an interview on Wednesday (Sep. 14).
https://twitter.com/rightheredinah/status/776171196249350144
The singer was clearly not pleased after Seacrest asked about her rumored relationship with Mac Miller. Seacrest brought up a photo Grande posted on Instagram with the singer and rapper in a questionable position with the caption, "baabyyy."
But that's when things took a sharp left turn.
Seacrest: "You recently confirmed your relationship with Mac Miller on Instagram."

Grande: "Oh, is that what I did? Is that what Instagram means to you now? Alright world, let's go. What was that segue?"

Seacrest: "Well, I don't know. I'm asking."

Grande: "What are you asking? You said a sentence, there was no question. … I don't know, man."

Seacrest: "Well, come on, man."
Grande eventually explained why she was uncomfortable talking about her love life despite the social media post.
"If I post something, then that's what I'm willing to share at the moment. That doesn't mean that you, Ryan Seacrest, with millions of listeners, are entitled to more information."
Grande made a valid point about a celebrity's privacy and no one being entitled to more information than what's already been shared. However, Seacrest also asked a valid question because it's not like she hasn't talked about her love life before, whether it's Big Sean or even Miller.
Grande recently appeared on The Ellen DeGeneres Show, and while she played coy, she basically confirmed the relationship.
https://twitter.com/arianalastnews/status/776086364454526976
Out of all the reasons to clap-back or shade Ryan Seacrest, this was not one of them.
Be the first to receive breaking news alerts and more stories like this by subscribing to our mailing list.