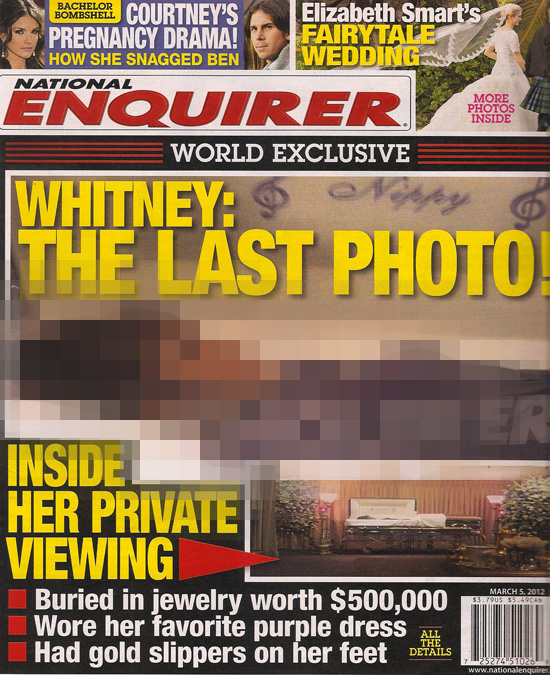 The National Enquirer — that filthy rag that sits on newsstands as you're checking out at grocery stores and pharmacies — has placed a highly controversial image of late singer Whitney Houston on the cover of their latest issue.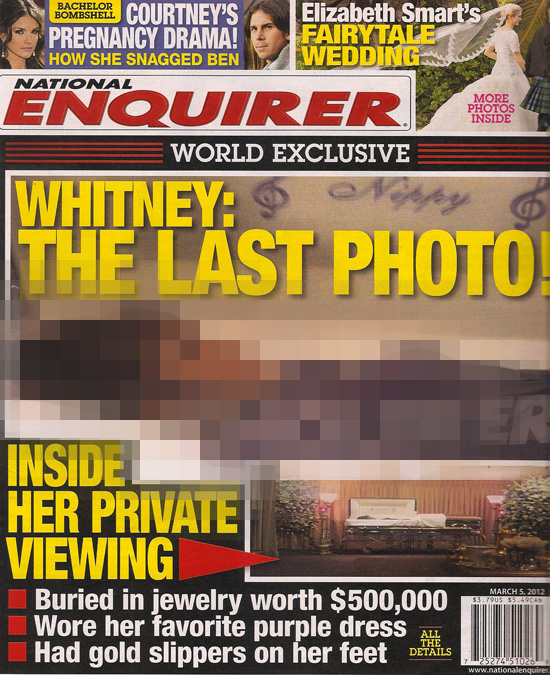 The image, dubbed "Whitney's Last Photo" and apparently taken inside the Whigham Funeral Home in Newark, New Jersey, shows the R&B icon laying in her golden casket.
According to the Enquirer, Whitney was wearing her favorite purple dress, $500,000 worth of jewelry and golden slippers. The word "Nippy" — her childhood nickname — was embroidered above her head in the casket's silk lining.
No word on how much money the magazine gave a member of Whitney's camp/family (or a funeral home staff member) for the photo, which we believe to be very distasteful, and all around just WRONG.
The image was clearly unauthorized and if her family wanted people to see Whitney in this state, then her private funeral service — which was televised — would have had an open casket.
"Too soon" almost seems appropriate here … but doing something like this isn't out of character for the Enquirer, who regularly ridiculed Houston and showed her in her darkest moments throughout the latter parts of her life. Now they actually have a picture of her dead.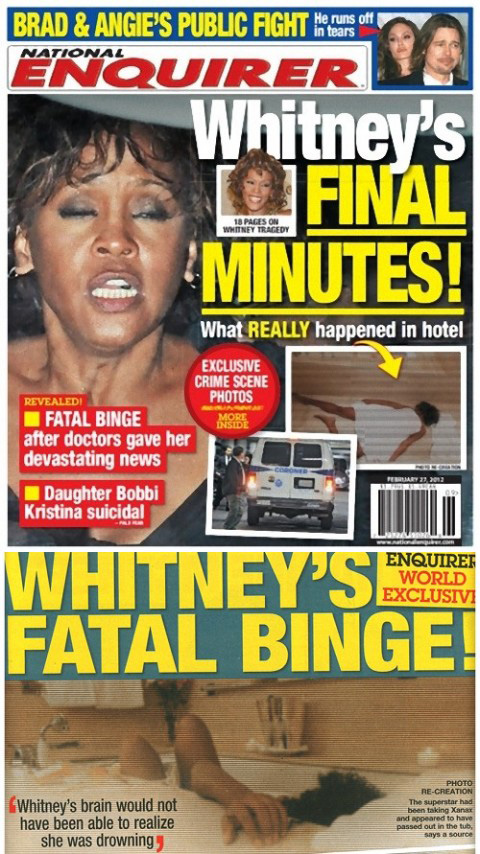 The "death photo" (or "coffin photo") comes just a week after NE hired an actress to pose in the position that Whitney was reportedly found in after she was pulled out of the bathtub, and actually published the image to the front cover of the gossip rag.
Whitney Houston died on February 11th — the day before the Grammys — after her bodyguard found her unresponsive in the bathtub at the Beverly Hilton Hotel in California.
Do you think it was wrong for the National Enquirer to publish a photo of Whitney Houston laying in her coffin?
Be the first to receive breaking news alerts and more stories like this by subscribing to our mailing list.