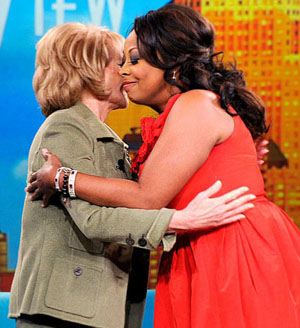 It's been six years since she suddenly left, but Star Jones returned to "The View" Wednesday for an interview, and was welcome back with open arms.
"I can say this genuinely: I am so happy to welcome back Star Jones!" co-host Barbara Walters told the audience.
During her two-part interview, at some urging from Walters, Jones hesitantly explained why she left the show in 2006.
"Are we really going to go here, Barbara? Do we care at this point? I honestly don't," Jones said, before proceeding to give her account of the situation.
If you're not familiar with the story, Star Jones left "The View" amid a ton of controversy.
Apparently, ABC didn't renew her contract after she had a falling out with Barbara Walters, so she fired back by announcing the next day on live TV that she would be leaving the show in a move that shocked all of her roundtable co-hosts.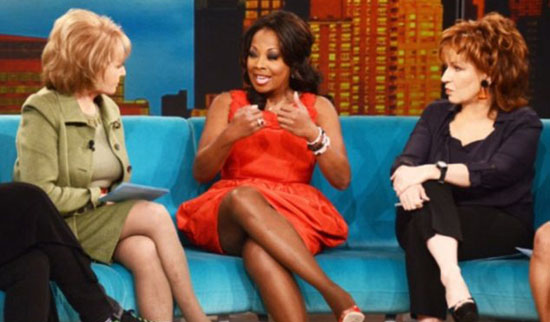 "It was ugly," Jones told Walters she remembered of the aftermath. "It was a bad emotional time. I made the decision that I wanted to go out on my own terms so that when I walked back in here, if I were ever invited, I would feel good about coming in."
She continued, "I had eight fantastic years here — one was 'Eh' — I came back to congratulate you on all you accomplished; I hope you congratulate me on what I accomplished."
The ladies also talked about the pink elephant in the room, aka Jones' controversial 2003 gastric bypass surgery, which she vehemently denied up until 2007 in an interview.
"We tried to protect you. We were told, 'Don't say it was gastric. Say it was Pilates and portion control,' Behar said, jokingly noting, "You are now a skinny b*tch — congratulations!"
Barbara added, "We did lie for you," to which Star humorously responded, "Who cares? I look good."
Babs later told Jones, "You look great. You look healthy. And we really are happy that you're back."
Re-united and it feels so good…
Watch Star Jones' big return to "The View" below:
Be the first to receive breaking news alerts and more stories like this by subscribing to our mailing list.