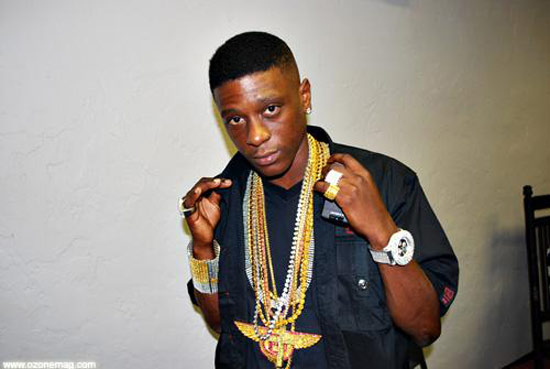 Soon, time will tell the fate of Louisiana rapper Lil Boosie. In a new letter penned to his fans, Boosie reveals he will stand trial for murder this April, and also thanks all those who have been showing him love and support.
Check it out below:
A letter to all my fans,

First, I want to thank you, all of you for supporting me through these hard times. Last month I was sentence to 8 years with credit for time served so i will have to do 19 months on that sentence. I go to trial for this murder charge in April so please keep me in your prayers.

To all my fans who write me through J-Pay make sure you put your address so I can respond. Its hard to write every body back but I will try my best to do so. I would also like all my fans to support Young Jeezy new album TM 103 he's a real nigga with a big heart. I want to thank Plies, Yo Gotti, Marcus Spears, Jout Dallas, Earl Wayne and Jamarcus Russell for keeping it real with me and Pacman also. My daughter Iviona album will be coming soon so be on the lookout for it. Its HOTT!!!

I really appreciate everybody who's supporting www.boosiejustice.comand everyone who has sign the petition and bought Boosie Gear. I want all my fans to know that y'all are so special to me because without you there would be no me. Congrats to Webbie on his new album Savage Life 3. New Boosie DVD "The Come Up" will be in stores soon. Life Story Book "The Truth" in stores end of 2012. My label, Bad Azz Ent, will be dropping a compilation this year and you already know how we do it. I want to thank GOD for everything and now I know the real from the fake and I can say that not too many are not real.
I also want to send love to the realest woman in the world my MAMA Mrs. Connie who's my best friend, mama, spiritual adviser and #1 Fan.
Lil Boosie is currently serving an 8-year prison sentence for attempting to sneak drugs into two Louisiana State prisons. At the time, he was already in jail serving a four year sentence on drug charges.
Lil Boosie, born Torrence Hatch, is also facing a possible death sentence or life in prison if he is convicted on murder charges in April.
If Amanda Knox and Casey Anthony can get let off the hook … they better cut Boosie some slack!
Be the first to receive breaking news alerts and more stories like this by subscribing to our mailing list.