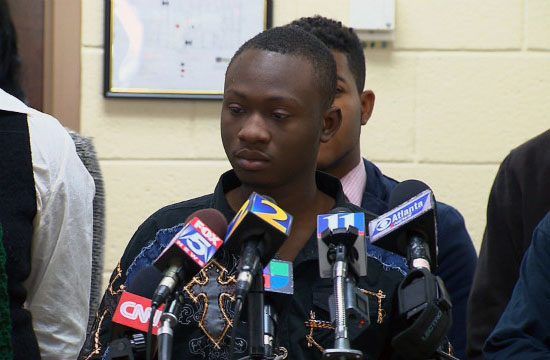 The Atlanta man who was the victim of a brutal anti-gay attack caught on tape has spoken out publicly about the incident, telling reporters that he is still shaken by everything, and the "scars run deeper than anyone will know."
20-year-old Brandon White says he didn't want to contact police at first, but he changed the mind after he learned that the recorded video footage from the attack — which saw him being beaten and hit over the head with a car tire outside a neighborhood grocery store — had gone viral on the internet after being posted to World Star Hip Hop.
"At first I was embarrassed," White told reporters in Atlanta on Wednesday (Feb 8). "But if they are willing to put it out there, I'm going to face it."
He continued, "By them going ahead and putting it on the Internet, I feel that they wanted the attention. They wanted to make themselves look like they were brave or strong, but in my opinion, I'm the brave one."
In the video, which was reportedly recorded on Saturday (Feb 4) and uploaded to the Internet the following Monday, White and an unidentified friend can be seen walking out of a grocery store.
Within seconds, a man comes out of nowhere and punches White right in the face, knocking him the ground. White is then brutally attacked by three men, who punch him and stomp him while he tries to cover his head.
One of the attackers — who is wearing a t-shirt with the words "Jack Gang" written on the back — even throws a tire at White, striking him in the head.
While the purported gang members are beating the young man, the camera man, laughing, says several times, "No faggots in Jack City!" Another nearby onlooker can be heard saying, "No faggots, man."
White, who confirmed that he is gay, said that he was still shaken by the violent gang assault, but did not go into further detail regarding what lead up to the attack.
"The scars run deeper than anyone will know," he said. "The physical pain, I can get over that. My thing is: Who's to say they won't come after me again? Who's to say they won't kill me?"
As we reported yesterday, the feds have launched an investigation to uncover details regarding the incident.
The men in the video still haven't been identified, and police are still asking anyone with any information about the incident to call Zone 3 officers at 404-624-0674, or call anonymously to Crime Stoppers Atlanta at 404-577-8477.
Be the first to receive breaking news alerts and more stories like this by subscribing to our mailing list.