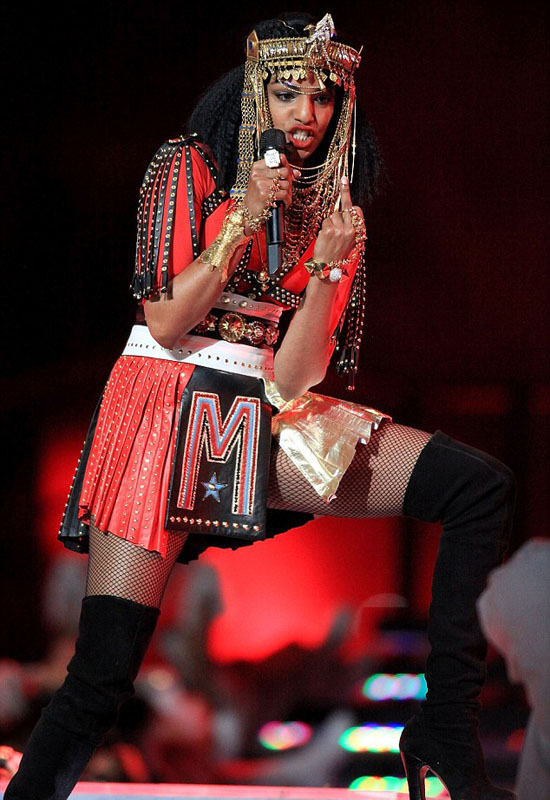 If you blinked, you missed it (like us), but M.I.A. totally flipped the bird during her performance with Madonna (and Nicki Minaj) at the Super Bowl Sunday night (Feb 5), sparking lots of discussion and lots of finger pointing.
M.I.A. — best known for her hit song "Paper Planes" — flipped her middle finger and swore into the camera right in the middle of her rap solo during Madonna's "Give Me All Your Luvin" while over 100 million people watched.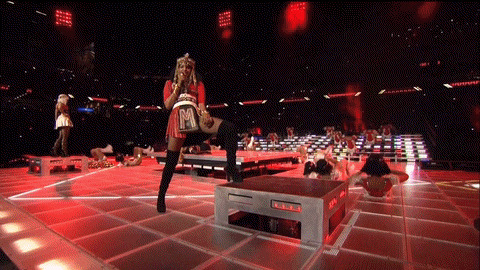 "I'mma say this once, yeah, I don't give a sh*t," the 36-year-old rapped as she pulled out her middle finger, causing the screen to briefly blur in what looked like a late attempt from producers to cut the camera shot.
The show's broadcaster NBC, and the NFL, who produces the show, have both apologized, but are blaming each other for the incident.
NFL VP of communications Brian McCarthy said, "'There was a failure in NBC's delay system. The obscene gesture in the performance was completely inappropriate, very disappointing, and we apologize to our fans."
He added that M.I.A. didn't do anything like that during rehearsals, and the NFL had no reason to believe she would pull a stunt like that during the live show.
NBC spokesman Christopher McCloskey countered the NFL's claims, holding the NFL fully responsible for the incident and apologizing for their delay in censoring the gesture.
"The NFL hired the talent and produced the halftime show," he said. "Our system was late to obscure the inappropriate gesture and we apologize to our viewers."
While M.I.A.'s publicists at her record label Interscope are keeping quiet, a member of her camp claims she was struck with "a case of adrenaline and nerves."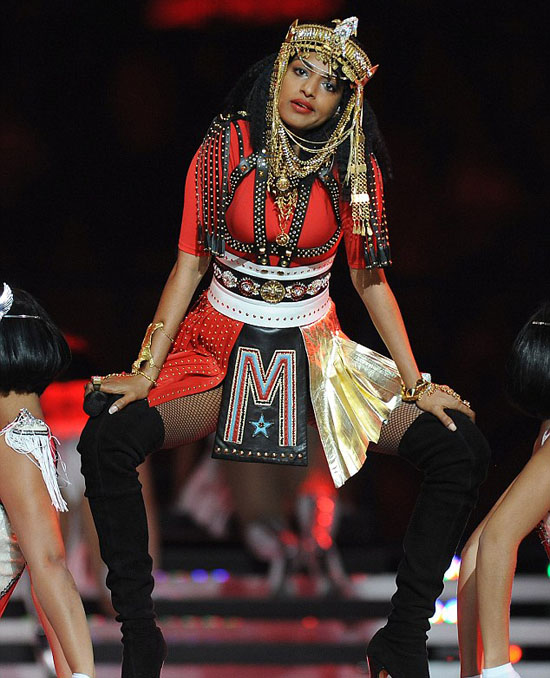 "She wasn't thinking,' said the source, who was with M.I.A. at the Lucas Oil Stadium in Indianapolis, Indiana. "It wasn't any kind of statement. She was caught in the moment and she's incredibly sorry."
The incident is being compared to Janet Jackson and Justin Timberlake's infamous "Nipplegate" incident, in which the former's bare nipple was exposed by the latter after he 'accidentally' ripped a piece of her clothing off, which was later described as a "wardrobe malfunction."
Timberlake quickly distanced himself from the situation, leaving Jackson to face scrutiny from the media alone for some time after.
It's being said that M.I.A. could get fined hundreds of thousands of dollars as a result of her middle-finger gesture, which occurred during the most watched program in U.S. television history.
Sources close to the situation have revealed to TMZ that because of what has happened with performers in the past, M.I.A. signed a contract with the NFL agreeing to indemnify the league for any money it might be forced to pay if the FCC were to fine NBC.
Sources tell us … aside from the fact that the NFL doesn't want to pay a huge fine, the organization wants to send a message to performers — don't you dare screw with us. [TMZ]
CBS was hit with a fine from the United States' Federal Communications Commission (FCC) worth $550K after Janet Jackson's wardrobe malfunction, but that fine was later thrown out by a federal appeals court.
The FCC has yet to respond to the incident, but don't expect them to stay quiet for too long.
Be the first to receive breaking news alerts and more stories like this by subscribing to our mailing list.