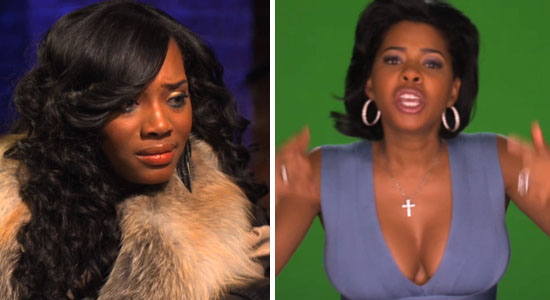 The second season of "Love and Hip Hop" may be over, but that doesn't mean the drama is!
It's no secret that many of the show's cast members don't like each other. So to combat that, and the fact that none of the ladies can sit in the same room with each other, instead of wrapping up the season with a traditional "reunion special," VH1 came with the unique idea to host what they're calling a "Reality Check" reunion-like special that will feature one-on-one interviews with all of the "Love and Hip Hop 2" ladies.
From VH1:
"Love and Hip Hop 2: Reality Check" is not your traditional reunion show. Due to all the fights and arguments the cast had with each other, the producers were forced to do something different since several of the ladies refused to be in the same room together!

In revealing, one-on-one interviews with Executive Producer Mona Scott-Young, all of the Love and Hip Hop stars speak frankly about which cast members they get along with, who they hate, and answer all of the burning questions that the fans want to know.

Can Emily and Fab work it out? What exactly was in Yandy's explosive e-mail? Are Chrissy and Jim ever getting married? And, most shocking of all, find out who quit the show and may be gone for good.

This special episode is not so much a season recap as it is a revelation of all the dramatic moments that never aired as well as a candid look at how being a reality TV star can change your life forever.
In an effort to get viewers ready for the special, VH1 has released a couple of sneak peak clips. In one of the clips, Chrissy and Yandy (who we all know basically hate each other) each give their own version of the beef that brewed between the two throughout the entire season.
Chrissy says it was her idea to bring Yandy on the show in the first place, and she apparently wasn't having it when producers decided to "expand" Yandy's role, giving Yandy more screen time than her.
So Chrissy and Jim Jones gave Yandy an ultimatum. She could either continue to be Jim Jones' manager and fade into the darkness when it comes to her role on the show … or she could quit as Jones' manager and continue to be on the show. (And we all know the decision Yandy obviously made in the end.)
"I am so good at what I've done, I've made an avenue for you!" Chrissy says in clip #2, in reference to Yandy. "We want to talk about paychecks and who is doing what? Bitch you on my show! I am so good at what I've done, I've made an avenue for you! Bow down!"
Ouch.
Watch both clips below:
Be the first to receive breaking news alerts and more stories like this by subscribing to our mailing list.