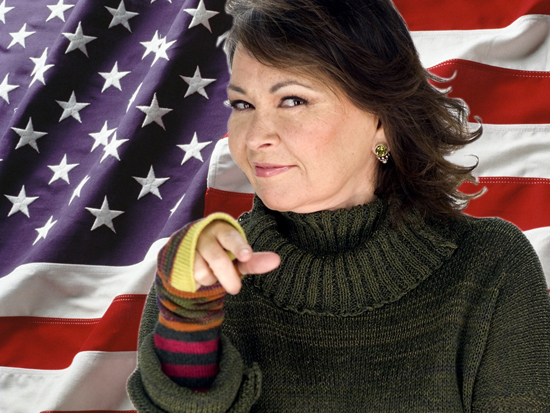 This is NOT a joke!
Roseanne Barr has filed official paperwork with the Federal Election Commission to run as a Green Party nominee for President of the United States, according to various confirmed reports.
The actress/comedian revealed the news on Twitter Thursday:
I am running for Green Party nominee for POTUS. I am an official candidate. I am4 the Greening of America&the world. Green=peace/justice

— Roseanne Barr (@TheRealRoseanne) February 2, 2012
Barr joins current Green Party nominees Kent Mesplay, Jill Stein and Harley Mikkelson, with the official candidate set to be announced at the Green Party Presidential Nominating Convention in July.
Roseanne says she's sick of the Democrats and Republicans not working in the best interests of the American people, and she wants to bring some serious change to how things are done in the White House.
In a campaign-announcement speech she delivered in May 2010, Barr outlined a very ambitious three-step platform: First, to make war illegal and legalize hemp (including marijuana). Second, change the demographics of government to include more women. And third, outlaw "bull."
"After the passage of this one law, the Patriarchy will inevitably begin to crumble, as will the concept of War itself, which is largely a large load of, well, bull," Barr said in her speech last year.
In a more recent statement posted to the Green party Watch website this week, Barr says, "Both the Democratic and Republican parties are bought and paid for by corporate America and cater to the needs of the highest bidder as opposed to the people they claim to represent. I cannot be bought."
Would you vote for Roseanne Barr for President?
Be the first to receive breaking news alerts and more stories like this by subscribing to our mailing list.