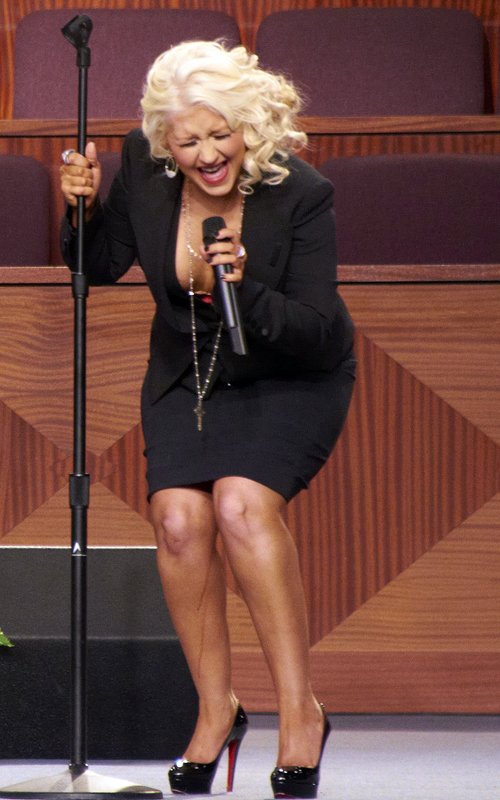 Christina Aguilera was among the stars who paid their respects to Etta James at her funeral Saturday (Jan 28) at a church in the Los Angeles area.
During the service, held at the City of Refuge Church in Gardena, California, the singer, dressed in all black, performed the classic Etta James tune "At Last."
Introducing her song, Christina told the crowd, "There's a line in this song that says 'I found a dream that I could speak to.' And for me that dream, all my life, has been Etta James."
But unfortunately, her performance was up-staged by a mysterious "substance" that appeared to run down her leg as she belted out the notes to the song.
The songstress seemed to be unfazed by the leakage as she sang, however, video footage shows her trying to wipe away the liquid, which many believe to be "period blood" (but others say it's from a spray tan gone bad).
It remains unknown what caused the dark lines to drip, however it is recommended to let a fake tan dry for at least a few hours before coming in contact with liquid – or perhaps in Aguilera's case, working up a sweat. [NYDN]
Regardless of whether it was tanning lotion mixed with sweat, or (worse) period blood … this is an embarrassing situation all around for Christina Aguilera, who is no stranger to being embarrassed live on stage.
Around this time last year, the Pop singer has messed up the lyrics to the National Anthem during the 2011 Super Bowl, and the following week, she slipped and fell on stage at the Grammy Awards.
But Aguilera didn't let her embarrassing mishap at Etta James' funeral outshine her tribute.
"Etta wasn't just any performer, she was a strong woman whose talent came from a place so deep it moved people in ways they never felt before. Losing her was, to me, like losing a part of my soul," Aguilera told People the following day.
"I can only hope that she felt the love in the room as we all came together to pay tribute to her and celebrate her life as a person and as an artist. She will be deeply missed and I thank her family for allowing me such a great honor."
Watch Christina's performance below:
Be the first to receive breaking news alerts and more stories like this by subscribing to our mailing list.