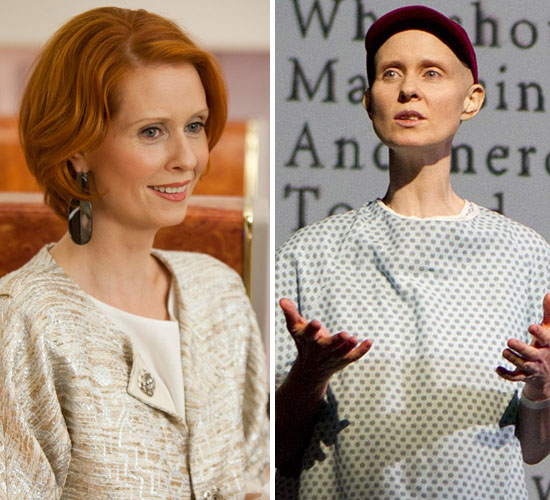 "Sex and the City" actress Cynthia Nixon recently took on the role of a cancer patient for a new Broadway show called "Wit." And get this….the 45-year-old actually shaved her head COMPLETELY BALD to make the role even more convincing!
Nixon, known for her trademark red locks, debuted the new look on "Live with Kelly" earlier this week.
"So what's new?" Kelly Ripa quipped, obviously in reference to Nixon's shockingly bald head.
After Kelly complimented Cynthia on the shape of her head, the actress said, "I thought it was kind of gonna be no muss-no fuss, but I have to shave it every day! It's got kind of a five o'clock shadow, and you don't want to go on with that. I was always kind of curious to see what it would be like. I like it; I don't think I'm gonna keep it forever."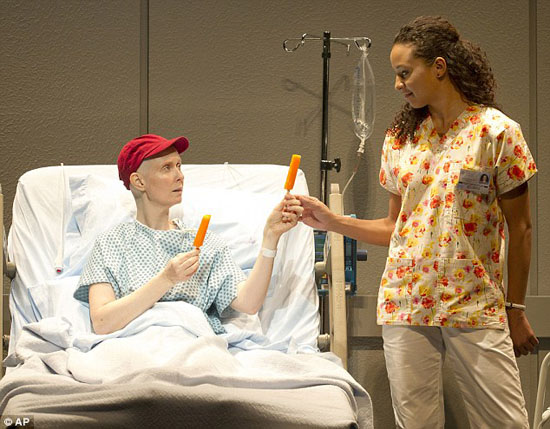 During a routine mammogram back in 2006, Cynthia Nixon discovered she had the early stages of breast cancer and underwent lumpectomy and radiation to treat it, so this new role — where she stars as a cancer stricken poetry professor — is very close to her heart.
Of her stage character, Cynthia says, "She's really at the top of her profession. She's a professor of 17th century poetry. She's the best; she knows she's the best. She gets a really bad cancer diagnosis and she goes through this really heavy-duty chemo and she meets that challenge, but she learns a lot about herself."
What do you think about Cynthia Nixon's new look?
Be the first to receive breaking news alerts and more stories like this by subscribing to our mailing list.