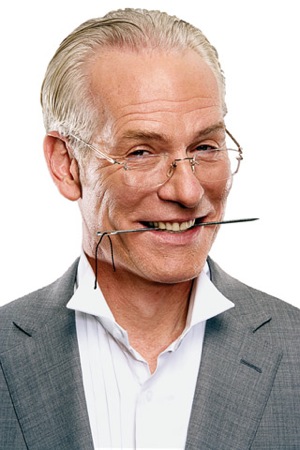 We know your first question (like ours) might be "Who the hell is Tim Gunn?"…..but don't worry about that too much for now.
Just try to focus on the fact that a living, breathing man actually admitted to a nearly 30-year dry spell. Yikes!
The "Project Runway" fashion guru revealed Tuesday on ABC's daytime talk show "The Revolution" that he hasn't been between the sheets with anyone for 29 years. That's fine with him.

"I haven't had sex in 29 years," he said. "Do I feel like less of a person for it? No. Not even remotely."

Gunn, 58, said that his "very personal" reasons for abstinence have to do with an "intense" and psychologically damaging past relationship. "My partner ended it, saying that, quite frankly, he was impatient with my sexual performance," he said.

Gunn, who is openly gay, also said that the AIDS epidemic prompted him to reevaluate sex. "I think a lot of people simply retreated because they were concerned about their health. I certainly was," he said. "And I'm happy to be healthy and alive, quite frankly."

While Gunn said that he's "a perfectly happy, fulfilled individual," he's happy to engage in sex again, as long as the person is right. "I have feelings," he said. "It's not as though I'm some barren forest. I don't want to imply to anyone that I have a mandate that says no sex. I don't. I don't know what's around the corner."

[ABC]
29 years?!? DAAAAYYYYUUUUUMMMM!!!
We actually applaud him for being able to hold out THAT long. Besides, his reasoning was pretty good too. HIV/AIDS is pretty serious!
Sounds like this guy needs to get himself a FleshliPad!
Be the first to receive breaking news alerts and more stories like this by subscribing to our mailing list.