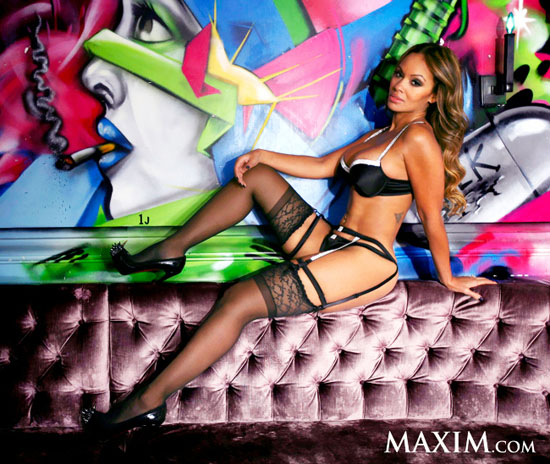 "Basketball Wives" star Evelyn Lozada rocks a couple of sexy lingerie pieces as she shows off her bodacious bod in the new digital issue of Maximum Magazine.
In the accompanying interview, Lozada, who is engaged to NFL star Chad Ochocinco talks about her breasts, her fiance, what she would be doing if she wasn't a reality TV star and more.
Check out the interview and the hot photoshoot below:
You really heated up our graffiti and murals set for this photo shoot! Is your New York hometown still your favorite city?
It's my favorite place when it's not cold, and right now New York is freezing! I've been living in Miami where we shoot the show, so I've gotten a little spoiled.

Do you ever go topless on South Beach?
No. I would never do that. Being topless on South Beach is not a good look. (laughs)

You're engaged to New England Patriots star Chad Ochocinco, but you star on a show called Basketball Wives. Did we miss something?
I was formerly in a 10-year relationship with NBA veteran Antoine Walker. He played for the Boston Celtics, Miami Heat, and a couple of other teams.

So you're obviously a sports fan, cool. Which sport do you like most, football or basketball?
Football, of course!

Makes sense. Your shoot shows you have tight end skills of your own. Which of your body parts do you love most?
My breasts. They're pretty. (laughs)

Is Ochocinco as animated off the field as he is on it?
Yes. Chad is animated 24/7, and it drives me a little crazy sometimes. He's very energetic with tons of jokes. But he's not as arrogant and cocky as people think. When he's home he's very polite, and a gentleman. But he's always on.

If you weren't a reality TV star, what would your second career be?
Full-time entrepreneur. Before Basketball Wives, I was very busy in Miami with my shoe store, Dulce. I love shoes. And the only reason I signed on to do the show was to help promote my store. So if my life wasn't so non-stop now, I would be at my store 24/7.

[Maxim]
Be the first to receive breaking news alerts and more stories like this by subscribing to our mailing list.