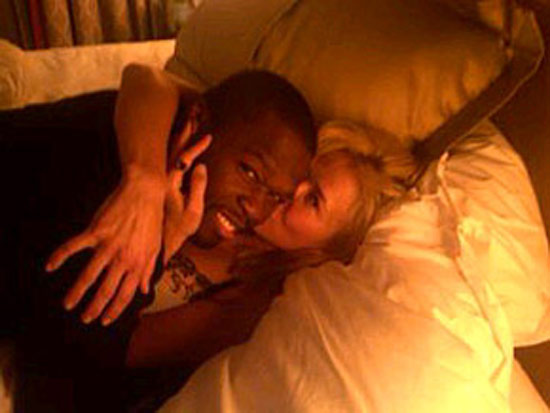 Chelsea Handler — who is well known for speaking her mind, no matter what — sat down and had a little chat with Howard Stern on his Sirius XM satellite radio show on Monday (Jan 23). And during the interview, Handler opened up about her one-off relationship with rapper 50 Cent, and even had a few choice words for Mariah Carey and Nick Cannon.
"He's actually a lot different than you would think," Chelsea said of 50 Cent, who she briefly dated in 2010. "He's very sweet. He's really sweet. He's got this great big smile and his energy is just –he's like a big black teddy bear and you just kind of want to jump on him."
She continued, "He's very clean cut, and I don't know if he was lying to me but he doesn't do drugs, he doesn't even drink alcohol, he doesn't smoke pot, he doesn't do anything I like. I thought that was refreshing, and I was like 'Oh, that's fun.' I smoke pot once in a while. But yeah I'd smoke around him, but he never wanted to. There's always someone around me that's got pot, so it's not like that hard to come by."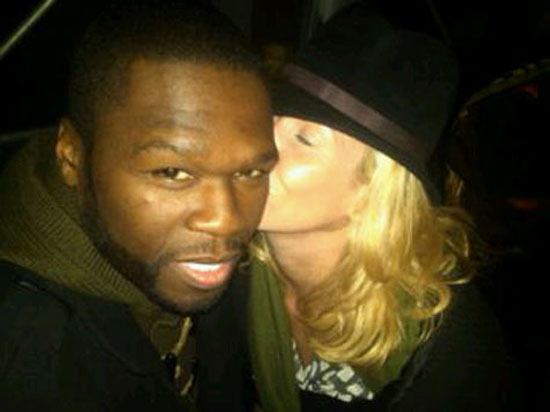 Speaking on her fling with the rapper, Handler said, "We went out. We dated. We had sex. The sex was okay. It was just normal. It was fine. It wasn't mind blowing … I've had much better sex with other people, but it was good."
"My friends all loved him," she continued. "My friends fell in love with him. They were like, 'This huge gangster guy is like the sweetest.' So we dated for a couple months."
Throughout those few months, Chelsea says 50 used to fly out to her shows all over the country. He had even met her family in Newark, and was set to join them on a Christmas vacation trip to Anguilla.
But Chelsea says things took a turn for the worse after Ciara, 50's rumored ex girlfriend, was scheduled to appear on her show.
"It was so dumb. It's almost embarrassing. I really can't remember the exact the details, but I'll tell you what I can remember. I think one of his ex-girlfriends was coming on my show and she's one of those singers. I can't remember her name. She's really hot. He was dating her I guess previous to me.
"Right before Anguilla, Ciara–that's her name!–was coming on the show, and he called me to tell me something about her like she still calls him all the time, and she still tells him that she loves him or something. And I'm at my job, and I go 'Curtis, honestly this is like eighth grade sh*t. Why are you telling me this? This girl is coming on the show tomorrow, and now I have to look at her and think you guys have some weird thing going on or had going on.'
"It was so juvenile. I'm at my work and I work my ass off all the time, and I have million different things and even though it's not like important work, I am working hard. I'm doing sh*t. He said, 'I want you to hear this conversation' and he was like calling someone like a 3-way phone call. I go, 'So you're telling me this girl wants to get back together with you, but she's upset that you're dating me, is that what you're saying?' He's like, 'Yeah, so I just want you to know when she comes.'
"I think I called him the worst thing you could say to a black person short of calling him the N-word. I said something like you're like a street person basically. Something along the lines of being a gangster, and it was really, really offensive and I hung up and I've never spoken to him again."
When asked if she called him "ghetto," Handler recalled, "I said something like that. I said, 'You have no business even talking to someone like me,' and it was very mean. Obviously, he never showed up to Anguilla, which is actually better because he couldn't swim, so I didn't understand why he was coming in the first place."
50 Cent wasn't the only person to receive some harsh criticism from the late night talk show host and comedian. She also lashed out at Mariah Carey and Nick Cannon.
"Anyone who's married to Mariah Carey, I'm pretty sure doesn't have a great sense of humor," Handler joked. "I mean, let's be honest, she's ridiculous. What is her game plan? What kinda person operates like that?"
Chelsea went on to ridicule the singer over her recent weight loss and compared her to Elizabeth Taylor, whose weight fluctuated much like Carey's throughout her career.
"She's worse than Elizabeth Taylor. She's just so ridiculous with her body. You see her one day and she's like 50 pounds heavier or lighter, I mean what is she doing?" Handler continued. "I don't even understand what hemisphere people like that operate in. There's nothing real about her and her Hello Kitty whatever."
Listen to the full interview below:
PART 1
PART 2
PART 3
PART 4
PART 5
Be the first to receive breaking news alerts and more stories like this by subscribing to our mailing list.