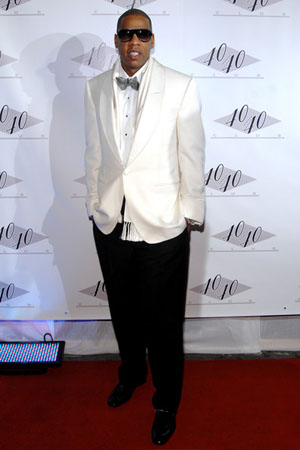 Just one day after hosting a star-studded $10 million re-launch party attended by Warren Buffett, Swizz Beatz, Russell Simmons, Ashanti and many others, Jay-Z's 40/40 Club was shut down by the Health Department after earning a "C" grade following a health inspection.
According to the NY Post, a health inspector witnessed a worker mixing salsa with his bare hands and found perishable food at dangerously warm temperatures inside the nightclub's walk-in refrigerator.
The inspector also found hot food left out on the counter from the party held the night before.
The refrigerator was at a rancid 60 degrees instead of 41 — jeopardizing the safety of 50 pounds of raw chicken wings, five pounds of raw shrimp and 100 turkey burgers, the sources said.

Five pounds of cooked mashed potatoes, meanwhile, were left out at a temperature of 89 degrees, while 10 pounds of cooked rice and 50 turkey burgers were kept at 67 degrees. All the hot foods should be at least 140 degrees, the sources said.

The club's restaurant was immediately closed, and new patrons were barred from entering. Those already inside were allowed to remain.

"If you have a walk-in place with food like this, you put a hell of a lot of people at risk," said the source. "A night of dinner and dancing should not include the risk of contracting food-borne illness."
Ron Berkowitz, a rep for the club, explained to TMZ that the motor in the fridge blew just moments before the health inspector arrived, which in turn, caused the temperature to rise.
But kitchen staff quickly detected the problem, and had no intentions of using the food that was stored in the broken fridge, which Berkowitz says was fixed by noon by the next day, and the club re-opened promptly without losing any business.
Pending a court hearing next month, he NYC Health Department gave the club 69 violation points, which is much higher than a score of 28 (a "C" grade).
Be the first to receive breaking news alerts and more stories like this by subscribing to our mailing list.