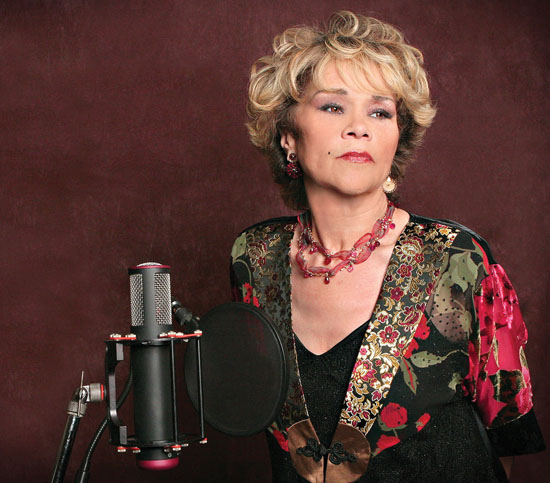 Legendary blues singer Etta James has died following a lengthy battle with leukemia at her home in Riverside, California, her manager confirmed with multiple major media outlets today. She was 73 years old.
"This is a tremendous loss for the family, her friends and fans around the world," James' manager and longtime friend Lupe De Leon said. "She was a true original who could sing it all – her music defied category. I worked with Etta for over 30 years. She was my friend and I will miss her always."
Over a career that spanned 50 years, Etta James won four Grammy Awards and 17 Blues Music Awards. She was also inducted into the Rock and Roll Hall of Fame in 1993 and received a Grammy Lifetime Achievement Award in 2003.
Born Jamesetta Hawkins in Los Angeles on January 25, 1938, the future music legend began singing in church before she was discovered in 1954 by bluesman Johnny Otis, who changed her name from "Jamesetta Hawkins" to "Etta James."
James' biggest hits to date include "Good Rockin' Daddy," "All I Could Do Is Cry," her first hit "Wallflower," and of course, the immensely popular "At Last."
Throughout her career, Ms. James battled drug and alcohol addiction, and was in and out of rehab, including a 17-month stint in the mid-1970's, without much success.
Finally, in 1988, when James admitted herself to the Betty Ford Clinic in 1988 for codeine addiction just before her 50th birthday, "I took back my life," says James, who remained clean after that.
In the early 1990s, Jaguar licensed her song "At Last" to use in a television ad, giving the song way more exposure than it had when it was originally released in 1961, which gave her a career boost.
James continued to perform in the 1990's, and she came into the spotlight again in 2008 when Beyonce portrayed her in the movie "Cadillac Records," which was loosely based on Chess Records where James recorded in the 1960s.
While James says she enjoyed the movie, she thought that it "had some inconsistencies," and for the most part, ignored the success she had on records and on black radio before she came to Chess Records in 1960.
The music legend praised Beyonce's performance, although in 2009, she was disappointed that the White House invited Beyonce to sing "At Last" at President Obama's inauguration instead of her.
She also said that Beyonce "should get her ass whooped," though she later said that she was joking.
In April 2009, Ms. James sang "At Last" on "Dancing with the Stars," which would be one of her last performances.
Because of her ongoing health problems, James had slowed down with performing in 2010 when she was admitted to the hospital with a blood infection, among other ailments, including Alzheimer's disease.
In May 2011, Ms. James was admitted to the hospital again with a urinary tract infection and "sepsis" (a blood infection), her son Sametto James explained to Reuters at the time.
Ms. Etta James is survived by her husband of 41 years Artis Mills, and their two sons.
Be the first to receive breaking news alerts and more stories like this by subscribing to our mailing list.