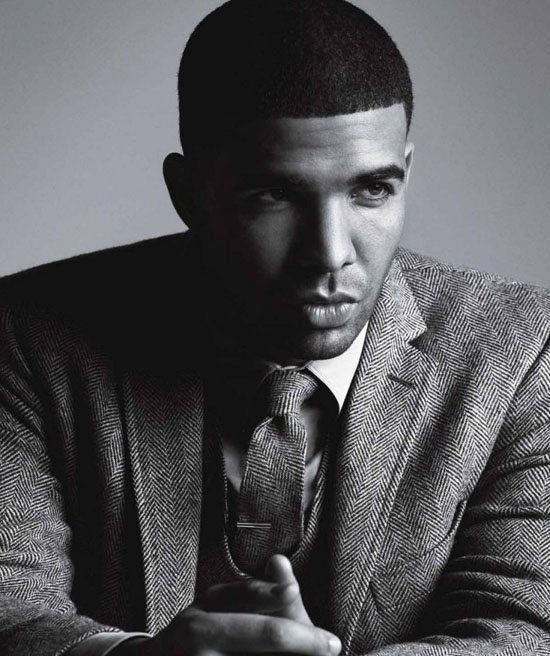 Remember the crazy Drake stan that got his name tattooed across her entire forehead? Well, in an interview after a photo of the tattoo went viral, the L.A.-based artist behind the ink-work called Drake a "goofnugget R&B dude" and "the softest motherf**ker in Hip-Hop."
Naturally, Drake didn't take too kindly to the tattoo artist's insult, and issued a threatening message for the guy:
"The guy who tatted is a f**king a**hole though, I will tell you that. F**k you to that tattoo artist by the way because you're an asshole for real. You should lose your job and never do tattoos again and I don't f**k with you and if I ever see you I'm going to f**k you up."
A man of his word, Drake recently confronted the dude in the "Drakey-est" way possible …. by sending in a couple of big, burly bodyguards to the guy's tattoo shop "to give him a warning." A STERN warning, at that!
"Drake sent his security detail into the shop to inform me that 'nobody is going to hurt Drake in the state of California.' I don't remember ever saying I was going to hurt him, but maybe they were referring to his feelings," tattoo artist Kevin Campbell wrote on his Facebook.
He elaborated a little more the next day via his Twitter: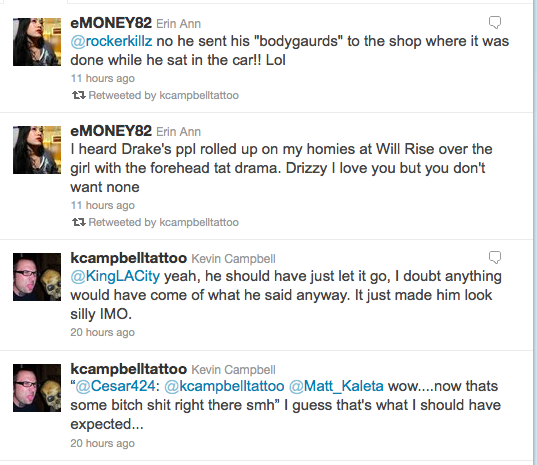 Aww, poor Drake can't even make an attempt to be about that life without being ridiculed and made fun of! (LOL)
[Necole Bitchie via DDOTOMEN]
Be the first to receive breaking news alerts and more stories like this by subscribing to our mailing list.