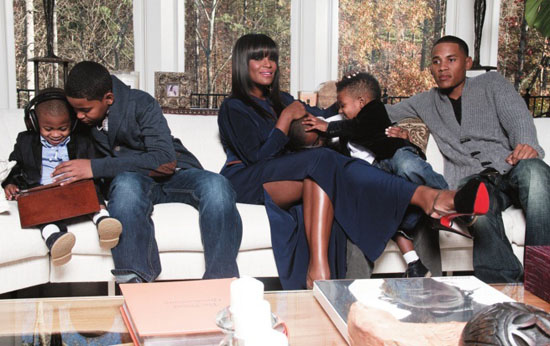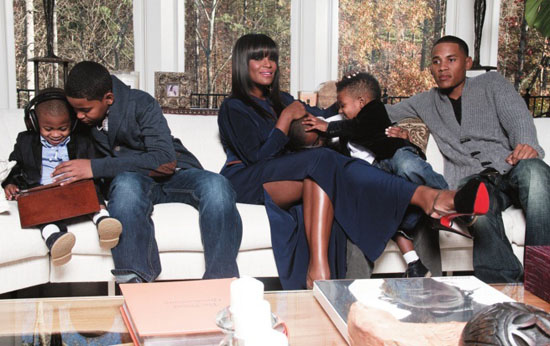 Who knew Tameka Raymond had a son who was a full-grown adult? We didn't!
The woman most famous for being the ex wife of R&B singer Usher shows off her 5 sons, including her 21-year-old son Darin, Ryan (12), Kile (10), and of course little Usher V (4) and Naviyd (3), in a new feature for Uptown Magazine where she talks about her businesses, motherhood, dating as a single mother of 5, and of course, her very public custody battle with Usher.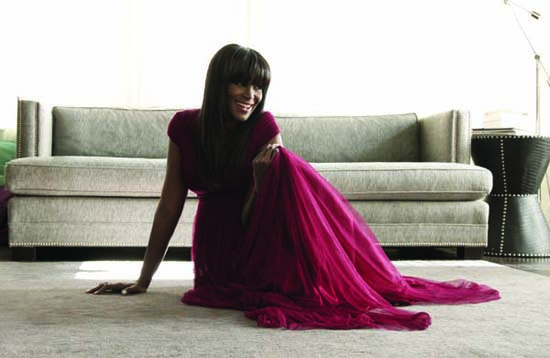 According to Tameka, it was Usher who first filed for sole custody of their 2 kids back in January 2011. Nine months later, she filed for sole custody as a counteraction, sparking a nasty back-and-forth between the former couple.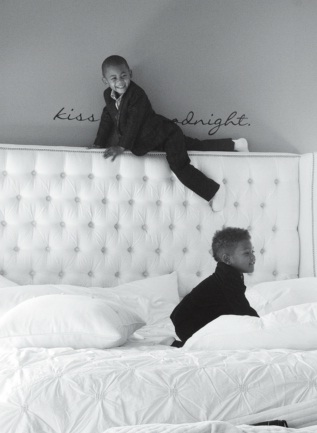 Tameka thinks Usher's reasoning behind wanting full custody of their young children is because he wants to control her.
"He is a man very accustomed to having his way," Raymond says. "This has nothing to do with how I parent. Trust me, I never will have a desire to keep a man away from his kids. I am not June Cleaver or head of the PTA, but I know I am a good mother."
Read more excerpts from the interview below:
Watching Raymond interact with her kids is as exhausting as it is endearing. Cinco and Naviyd are running around lawlessly in little Marc Jacobs suits. Ryan is the football star obsessed with girls. "Go into my office and do your homework," she tells him. "And don't get on Facebook."

Kile is a budding Steve Jobs; one time he disassembled his mothers malfunctioning Beats by Dre headphones, then rewired and repaired them. Today, she is helping him with his science project– a robot he built that's unfortunately fallen to pieces– yet, he skillfully sneaks in some younger-brother hateration. "Ryan is on Facebook in your office," Kile says nonchalantly.

"And you're snitching," Raymond says quickly. "That's why your robot broke!"

Neither Carol Brady nor Clair Huxtable, Raymond manages motherhood by her own rules, which is evident in her relationship with her son Darrin, 21, whom she had at age 19. (His father was murdered before he was born.) During the photo shoot, he noticed me snapping a pic with my cell phone and immediately signaled to his mother. He is ?ercely protective. "Because I had him at such a young age, he and I basically grew up together and we are extremely close. But I am very conscious not to be an overbearing mother."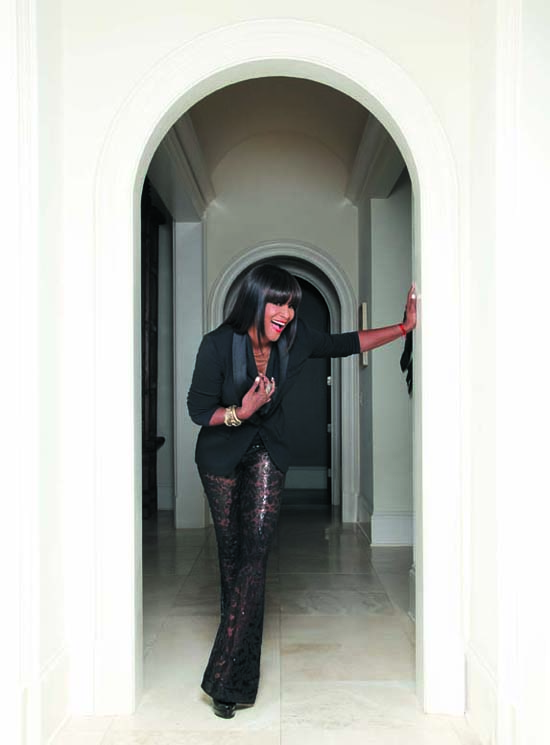 On meeting Usher:
"Usher and I met because I was one of the top stylists in the game. You don't get to work with someone of his stature in music, especially back then, without being one of the best. And I still am hardworking."

On managing relationships as a single mother of 5:
"I am dating," says Raymond, who keeps her body toned by practicing Pilates and yoga a few days a week. "It's refreshing. I have not been single in a while. I got divorced and married in the same year. It was a run-on relationship," she jokes. "But a lot of guys like to play games. I like a man that's a boss. I am not the dominant one. But a lot of the ones with the right mind-set wear OshKosh overalls. And if they are not ?y, I don't like them." She also has strict rules. "I don't bring men around my children. They have never met an 'Uncle Tony.' The two that I did bring around, I married."
While we don't doubt that Tameka is a good mother, we still think she's an attention whore, and she most definitely has this "thing" where she uses Usher's kids against him just to make herself look good. We have a feeling this interview is simply a way for her to clean up her "crazy lady" image.
Still, the full interview is an interesting read. CLICK HERE to check it out!
Your thoughts?
Be the first to receive breaking news alerts and more stories like this by subscribing to our mailing list.