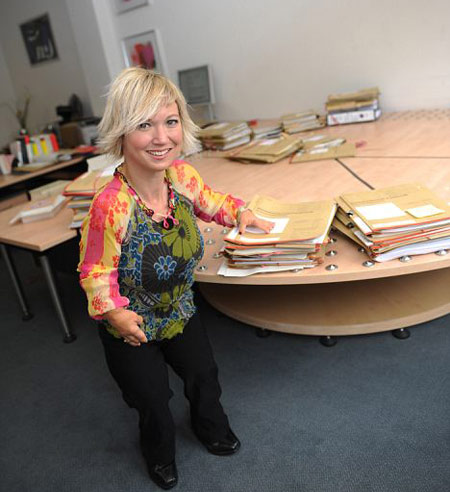 Remember that episode of "South Park" when a dwarf named Dr. Nelson came to South Park Elementary to teach the kids "words are like bullets, they go through me" … and Cartman laughed uncontrollably at his every move and eventually made the little guy so that mad he actually fought the loud and obnoxious fourth grader?
Well there's a real life case of this that we all could learn from:
A dwarf prosecutor is suing a man she called as a witness in a court case – after he broke down laughing in court at her size.

Silke Schoenfleisch-Backofen, 39, is a little lady with a big name, and an even greater sense of right and wrong.

She may stand only 3ft 8in high but Ms Schoenfleish-Backofen punches well above her legal weight as many villains in Frankfurt have found to their cost.

So when Russian-German Wadim Golanev, 25, cracked up in hysterics at the 'dwarf lady' in court during a case about theft, she was decidedly unimpressed.

Golanev was unable to answer her questions due to his hysterical laughter, pointing at her and singing 'Hi Ho, Hi Ho!' from Snow White And The Seven Dwarves.

No-one else joined in. And before he left the witness box he was handed a hastily scrawled summons accusing him of 'obscene insults' and ordered to appear before a judge next month.
We still don't quite understand why anyone with a brain would make fun of a lawyer (out of all people) during a court case. Now she's going to sue the pants off of this jerk and really show him what it feels like to be small!
Be the first to receive breaking news alerts and more stories like this by subscribing to our mailing list.