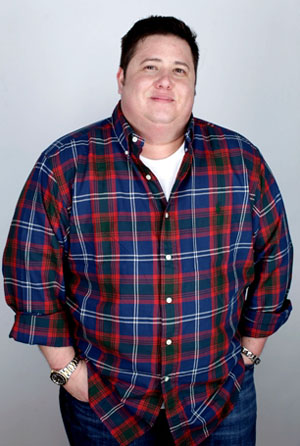 Chaz Bono, the world's most famous post-op transgendered man (and the son of Pop legend Cher), says he's saving up to buy himself his very own penis!
Bono made the revelation in a new interview with Rolling Stone, where he also explains how his first sex change surgery was done, and how it will prevent him from ever picking up a cigarette ever again:
"The way I had my top surgery done," he says, "they take your nipples off, and from your old nipples, they make male nipples. They totally re-craft them, let's say, and then they graft them back on. So it's a graft, and grafts don't always heal, and then this transgender guy that my girlfriend met said, 'I know people who were smokers whose nipples have fallen off.' When she told me that, that was all the incentive I needed. I went cold turkey."
About his expensive surgery that would finally give him a penis, Chaz explains to RS:
"I could get a phalloplasty, which builds the phallus from a donor site on your body … but I'm leaning more toward a metoidioplasty. It's a procedure that uses what you already have down there" – he means his clitoris – "which has grown larger from the testosterone. You end up with a smaller phallus than with the phalloplasty, but it's fully functional, it gets erect, and the sensation is all there."
Of course Rolling Stone asked Chaz how big his new penis was going to be. His response?
"You know, I don't really [know]. I mean, I've never seen one erect. So it's really hard to say. But, you know, soft, probably about three inches, and it grows considerably. I don't know what the average size difference is, but when I'm having sex I probably get three or four times larger." He pauses.

"I was in a fairly typical heterosexual relationship, which caused some militant members of the queer community to think I'm reinforcing stereotypes or whatever. Anyway, I think Jen wished I wouldn't get the bottom done, but she understood my need to." He shrugs. "You have to understand, though, for me the life transformation has already happened."
Regarding the cost of the surgery, which he compares to buying a car, and says will be in the range of $25,000 – $50,000, Chaz Bono told the magazine:
"It depends. There's different ways to do the surgery, from real basic to more and more options. It's like a car … Well, I mean, to break it down, the surgery I want to have, I'd like to have the testicular implants and all of that, and I'd like to be able to urinate through it. I mean, it's not that big a deal to sit down, but some of the toilet seats in men's rooms are disgusting. The doctor I want to use is in Belgrade. It's going to be a little cheaper there. Probably $25,000, maybe $45,000, I really don't know."
For more on Chaz Bono and his new penis, be sure pick up the latest issue of Rolling Stone when it hits newsstands on January 19th!
[RS]
Be the first to receive breaking news alerts and more stories like this by subscribing to our mailing list.