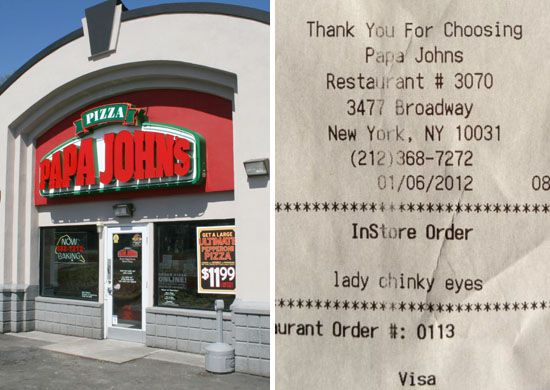 Papa John's has been on the receiving end of some major backlash after an Asian woman who recently paid a visit to the pizza restaurant tweeted a photo of a receipt that had "lady chinky eyes" printed on it where her name was supposed to go.
Minhee Cho, a Korean-American from New York City, posted the photo of the receipt with the racial slur on it to her Twitter page, where it was quickly retweeted by hundreds of people.
Within hours, the photo had become viral with nearly 30,000 views.
"Hey @PapaJohns just FYI my name isn't 'lady chinky eyes,'" Minhee Cho wrote, along with a picture of the receipt, which was issued from a Papa John's store on Broadway.
Cho's tweet resulted in the pizza chain firing the employee who was responsible for the offensive receipt.
Reps for Papa John's also used the pizzeria's Twitter and Facebook accounts to issue apologies.
A message posted to their Facebook page read:
"We were extremely concerned to learn of the receipt issue in New York. This act goes against our company values, and we've confirmed with the franchisee that this matter was addressed immediately and that the employee is being terminated. We are truly sorry for this customer's experience."
Addressing the matter via their Twitter feed, Papa John's told their followers that they have "issued an apology, are reaching out to customer & franchise employee is being terminated."
Despite their numerous attempts at an apology, Reuters notes that Papa John's is likely to experience more backlash from customers, given the nonchalant response of a few employees at the offending store.
An assistant manager at the store told New York City based website Gothamist, "We're all of different races here in this store. So she didn't mean any harm, didn't mean to stereotype against her, to discriminate against her, but that's how she took it."
Franchise owner Ronald Johnson, who runs five Papa John's locations, including the one where the incident took place, was also sympathetic to the employee who was fired.
"I bet I'll talk to her and she won't know why this is offensive," Johnson told Gothamist. "She needs to know, and she will know. If I fire her, two years from now, she won't even remember why she got fired. If I sit her down and talk to her, I can help her."
Meanwhile, a Papa John's manager who simply identified himself as "Jerome" (for obvious reasons) blames Cho for the negative publicity the company has received from the incident.
"It's affecting how we work," Jerome complained to the New York Post. "This is a place of business. I truly don't think it's fair what she did; it's just crazy … I think the lady put it out there just to get some attention — some people like that type of attention. I truly don't think it's fair. It's been taking up all our time. It's been very disruptive."
What do you think? Did Cho just want some attention … or was she truly offended by being called "Lady Chinky Eyes?"
Your thoughts?
[Reuters]
Be the first to receive breaking news alerts and more stories like this by subscribing to our mailing list.