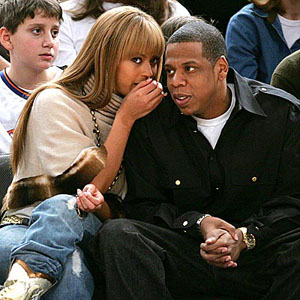 Those anxiously awaiting to see Beyonce and Jay-Z cradling their bundle of joy on the cover of a celebrity tabloid magazine whenever the baby makes its grand arrival will be very sad to know that no such thing will ever happen in this lifetime. (Ever!)
Huffpost Celeb's Rob Shuter reports:
"They are one of the most private couples," one magazine editor told me. "We have made several offers to their people about running exclusive images of mother and baby and no one has responded."

Today, some celebrity babies are splashed across the covers of weekly magazines before they've even opened their eyes.

Often when such a deal is made, the contract stipulates that the baby cannot be seen in public for a few weeks before and/or after the magazine hits the newsstands.

"If Beyonce and Jay-Z do decide to share their child with the world, they will probably go the same route as Tom Cruise and Katie [Holmes]," the editor explains.

"Instead of selling the images to a weekly publication, they would give them away for nothing to lock in a cover of a monthly like Vanity Fair. But knowing this couple, it is unlikely we will ever see a staged picture of the child."

A spokesperson for Vanity Fair declined to comment.

Brad and Angelina broke the record when they sold images of their twins, Knox and Vivienne, for upwards of $12 million, with the understanding that the proceeds would be donated to charity.

Other celebrities who have sold baby pictures include Jennifer Lopez, Matthew McConaughey, Jessica Alba, Jamie Lynn Spears and Tori Spelling.

But Beyonce and Jay-Z are so private that, after their 2008 wedding, they refused to even confirm they had tied the knot.

"Everyone reached out to the couple to buy wedding pictures and they refused," an industry insider revealed. "They have an estimated net worth of over $700 million. It's not like they need the money."
Be the first to receive breaking news alerts and more stories like this by subscribing to our mailing list.