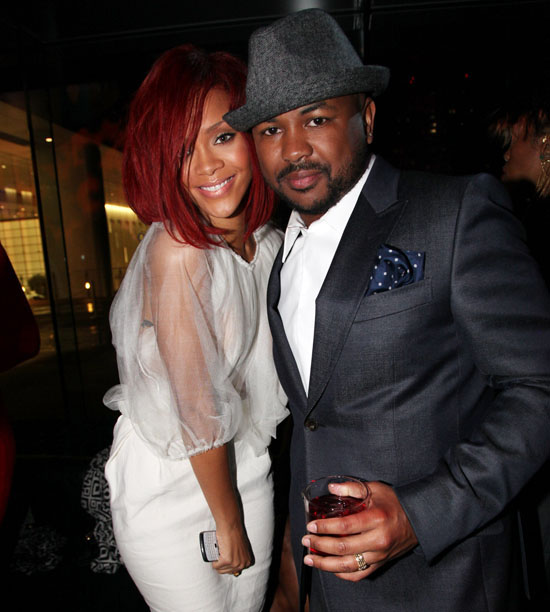 The Dream has obviously made some serious dough after writing hit singles for big name acts like Beyonce, Mariah Carey, Justin Bieber and others.
But none of the checks he's received from his skills as a songwriter compare to the $15 million the famed producer/hit-maker banked following the success of Rihanna's hit single "Umbrella," which he co-wrote with Jay-Z and Tricky Stewart.
The Dream, who also professionally goes by his government name Terius Nash, made the big money revelation while talking to UK radio personality Tim Westwood just before the Holidays.
"That record is probably somewhere around $15 mill," he said in the interview, where he also confessed that he 'gave' his former wife Christina Milian writing credit on Justin Bieber's "Baby," you know … just to be "generous."
He went on to joke: "I'm just trying to pay the bills, man. I got child support bills, I got old wives' bills, I got new wives' bills. I'm working on my third wife, so I gotta pay those bills."

Speaking about the night he wrote Bieber's mega hit 'Baby', The-Dream explained: "I was in my building at Def Jam and my friend Chris Higgs who was A&R-ing the project at the time said he wanted me to write a song for Justin Bieber.

"I said, 'OK. You pay for my hotel room and I'll write you a record'. He was like, 'No, we're not paying for your hotel room'. So I was like, 'OK, I'm not going to write you a record'."

He added: "So I guess everybody thought about it for a while and then they were like, 'OK, we'll pay for your room'. My hotel room is usually $3,200 per night, but my percentage for hit-and-miss is pretty high, so I was like, 'Just pay for it'.

"I went to the studio that night and made the beat and the melodies. I let Christina Milian try the first verse melody and basically finished the track."

Asked if Milian tried to claim a credit for the song, the producer replied: "She didn't have to claim anything. I gave her a percentage of it."

Questioned on whether she got the credit because she wrote the melody, The-Dream quipped: "No, that was just because I'm generous."
Watch the full interview below: