Uh-oh! Could there be "trouble in paradise" for newlyweds Katy Perry and Russell Brand?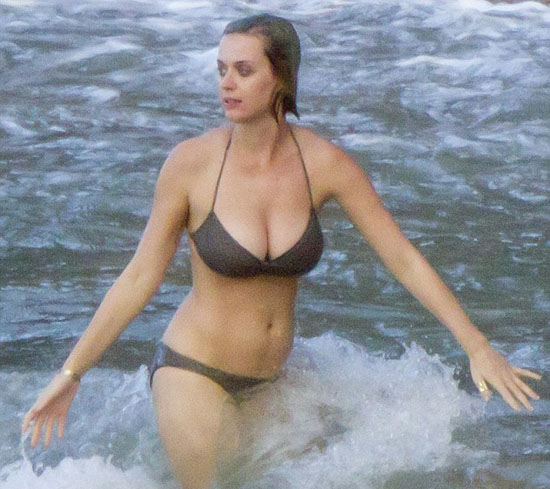 Katy spent her Christmas in Hawaii with friends and family, while Russell spent his all the way on the other side of the world in London with his own friends and family.
Perry was spotted in the ocean in Hawaii on Christmas Day, but her husband, or even her wedding ring for that matter, were nowhere in sight.
Granted, the singer could have taken the ring off to protect it from getting swept away at sea, but still … the question remains.
Why would you spend a family-oriented holiday like Christmas without your significant other … on purpose?
According to an inside source, the huge distance was due to a very heated argument the couple had just before Christmas that ended in an explosive exchange of "f**k yous."
"They had a massive fight," the insider said.. "She was like, 'F**k you. I'm going to do my own thing.' Russell replied, 'Fine, f**k you too."
"They haven't split up just yet, but things are not good. The fighting is getting worse. Katy doesn't think Russell respects her parents' Christian beliefs or her friends. The split may come soon, but they are both so dramatic and volatile, the relationship could become great again," the anonymous source explained.
Guess we'll just have to wait and see where it goes from here!
Check out more photos of KP in Hawaii below:
Be the first to receive breaking news alerts and more stories like this by subscribing to our mailing list.